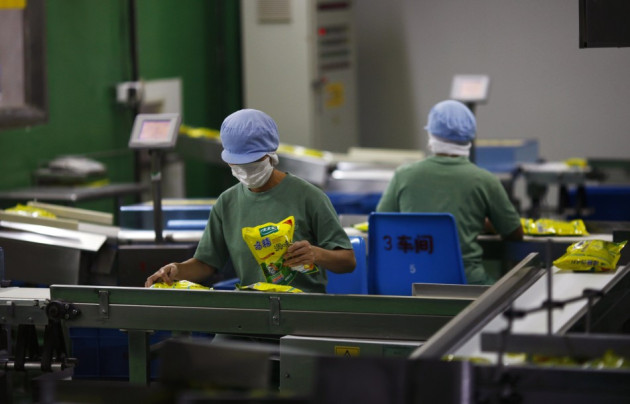 Asian indices have ended mixed as weak quarterly corporate earnings reports from the US and improved Chinese manufacturing data weighed on investor sentiments.
Japan's Nikkei average closed 0.67 percent or 59.95 points lower to 8954.30. South Korea's KOSPI dropped 0.67 percent or 12.85 points to 1913.96.
China's Shanghai Composite index rose 0.07 percent or 1.54 points to 2115.99. Hong Kong's Hang Seng was up 0.31 percent or 67.73 points to 21765.28.
Stock exchanges in India remained shut for a public holiday.
The markets cheered earlier in the day after the HSBC Flash Purchasing Managers Index showed that China's manufacturing picked up to 49.1 in October from 47.9 in the final reading for September.
But concerns on US corporate earnings impacted investors' risk appetite. Major firms such as DuPont, 3M and United Technologies had provided a weak performance outlook on the previous day, pulling US shares down.
The Asian earnings reporting season is also under way. Some of the major companies in the region have already posted weaker than expected earnings, pulling the market indices south.
Major Movers
Export stocks were down in Tokyo after the yen gained further against the dollar and the euro. Camera maker Canon was down one percent while electronics major Sony slid 1.02 percent. Panasonic and Toshiba fell 1.72 and 0.70 percent respectively.
Japanese automobiles were down as well. Toyota dropped 1.59 percent. Honda was down 2.18 percent while Nissan slid 1.71 percent.
Kawasaki Heavy Industries was down 5.58 percent after the company slashed its profit estimates for the first half.
Shares of Sharp climbed 6.37 percent after the company reported that it has started selling its smartphone developed along with the Hon Hai Precision Industry in China.
Property stocks climbed in Hong Kong. Cheung Kong Holdings gained 4.35 percent while Sun Hung Kai and Hang Lung were up 3.57 and 2.82 percent respectively.
Shares of the fashion retailer Espirit Holdings dropped 9.49 percent after the company offered a one to one rights issue, raising concerns on its performance outlook.
Shares of Samsung Electronics ended 0.99 percent lower in Seoul. Automobile majors Hyundai and Kia slipped 2.24 and 4.44 percent respectively.
Steel major Posco was down 1.43 percent, adding to earlier losses after the company announced a decline in quarterly profits.
Shares of LG Electronics gained 1.37 percent after the company reported higher third quarter profits on the back of strong mobile phone sales.
Some of the major metal firms ended higher in China. Liuzhou Iron & Steel gained 10.19 percent. Aluminum Corporation of China and Baoshan Iron and Steel gained 0.79 and 0.29 percent.