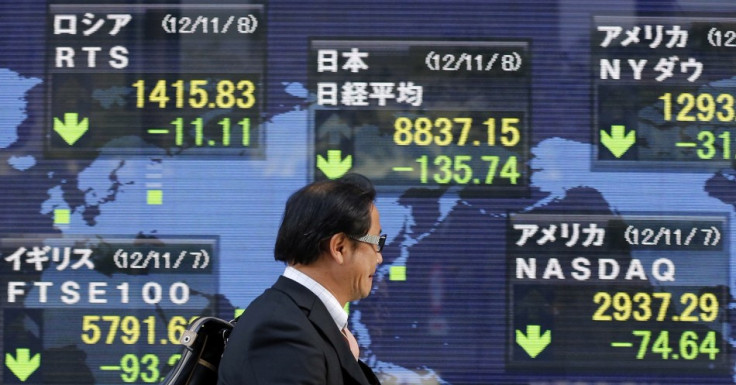 Most Asian markets gained in the morning, as investors remained optimistic of Greek bailout and a weak Yen. However, concerns about the eurozone were renewed after Catalonia elections.
The Nikkei climbed 2.20 percent or 202.54 points to 9425.06 at 02:51 GMT while South Korea's KOSPI was up 0.51 percent or 9.78 points to 1909.28. China's Shanghai Composite Index traded 0.39 percent or 8.00 points higher to 2019.38. Hong Kong's Hang Seng Index gained 0.82 percent or 177.58 points to 21920.78.
Eurozone finance ministers are set to meet later in the day for further discussions on crucial bailout funds for Greece. Investors remain positive the ministers will approve the funds as Athens has adhered to the requirements mandated for provision of aid. Greece earlier made it clear it urgently required funds to avoid bankruptcy.
"We expect that a compromise on (a) the Greek financing gap and (b) debt sustainability interventions will be found between the EC, the IMF and some northern European countries at this Eurogroup meeting," note analysts at Nomura Research.
The Yen extended its weak run against the Dollar and the Euro, encouraging Japanese investors to buy up exporter shares. A slew of recent weak economic indicators from Japan have increased concerns the world's third largest economy may be easing into recession. But despite the pressure the Bank of Japan refrained from introducing further monetary easing measures last week.
Meanwhile, concerns over the Spanish economy re-emerged after separatist parties managed to win elections in Catalonia, although with fewer seats than the previous election. Catalonia is Spain's economic power house and its second most populous region. A push for its autonomy could derail Spain's austerity plans and impact the eurozone.
Major Movers
Exporters stocks gained in Tokyo. Shares of Pioneer Corp were up 4.62 percent while those of TDK Corp gained 2.83 percent. Automobile majors Nissan Motor Company and Toyota Motor Corp rose 2.28 and 2.13 percent respectively. Mitsubishi Motors Corp traded 2.67 percent higher.
Paint manufacturer Chokwang Paint and automobile parts maker Dayou Automotive Seat Technology Company were the major gainers in Seoul, up 14.94 and 14.62 percent respectively.
Property stocks traded higher in Hong Kong. Shares of Hang Lung Properties were up 1.27 percent while those of China Resources Land gained 0.25 percent.