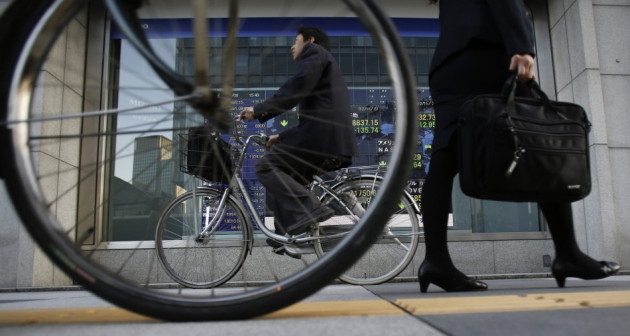 Asian markets are mixed in the morning session, as investor sentiments remain varied on weak Japanese economic data and improved Chinese indicators.
Japan's Nikkei average traded 0.80 percent or 70.25 points lower to 8687.35 at 04:02 GMT while South Korea's KOSPI fell 0.35 percent or 6.58 points to 1897.83.
Hong Kong's Hang Seng gained 0.09 percent or 19.51 points to 21403.89. China's Shanghai Composite Index was up 0.13 percent or 2.74 points to 2071.80.
Official data released early in the day had shown that Japan's economy shrank 0.9 percent in the quarter ending September and 3.5 percent on an annualised basis. This follows a string of weak indicators from the country, increasing concerns that the world's third largest economy may be slipping into recession.
Data released over the weekend from China was more positive. Chinese exports gained 11.6 percent year on year in October, up from 9.9 percent in the previous month. Imports remained steady at 2.4 percent.
Investors are keeping a close watch on the US economy, as negotiations have started on efforts to avoid the impending fiscal cliff. President Barack Obama had invited congressional leaders, suggesting that he "was open to compromise".
Greek woes too remain in focus. Athens managed to pass its 2013 budget that includes tight austerity measures, in a bid to convince international lenders to unlock vital loan funds. However, reports suggest that eurozone finance ministers, who meet later in the day to consider the release of funds, may not back the loans as soon as hoped.
Major Movers
Some of the major technology and automobile firms were down in Tokyo. Shares of Sony fell 2.05 percent while those of Panasonic slid 0.51 percent. Casio dropped 1.97 percent.
Toyota shed 1.43 percent while shares of Nissan and Honda were down 1.15 and 1.21 percent.
Suzuki gained 4.50 percent after the company reported a 30 percent profit increase in the first half of the fiscal year. Mazda was up 1.90 percent following a deal to manufacture Toyota cars at its Mexican plant.
Shares of Samsung Electronics traded 0.07 percent lower in Seoul while those of LG Electronics dropped 0.65 percent.
Utility major China Resources Power and footwear retailer Belle International were the notable gainers in Hong Kong, up 3.01 and 2.42 percent.
In China, power company Datang Huayin Electric and wood products manufacturer Guangxi Fenglin were the better performers, gaining 10.05 and 10.02 percent.