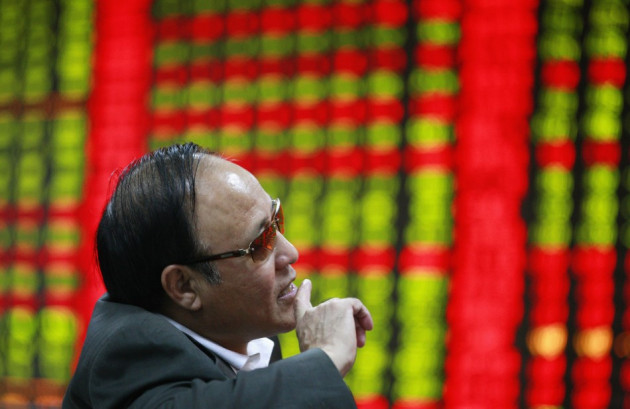 Asian markets traded mixed in the morning as the US earnings season continues, but Japanese stocks extended gains as the yen lingered near its more-than-two-year low against the dollar.
The Nikkei added 1.27 percent or 137.07 points to 10938.64, opening after an extended weekend. Australia's S&P/ASX 200 gained 0.14 percent or 6.50 points to 4726.20. South Korea's benchmark KOSPI index eased 0.52 percent or 10.43 points to 1996.61.
In China, the Shanghai Composite Index rose 0.40 percent or 9.34 points to 2321.08. Hong Kong's Hang Seng gained 0.09 percent or 21.95 points to 23435.21.
Hopes of further aggressive monetary easing measures from the Bank of Japan under pressure from the newly elected government kept the yen at about a 30-month low against the dollar. The greenback traded at about ¥89.47 in the morning remaining close to the highest since June 2010 of ¥89.67 hit early this week. The single currency remained at ¥119.73, after reaching its peak since May 2011 of 120.13 earlier.
The weak local currency encouraged traders to buy up export firms' stocks on higher earnings hopes. All eyes are on the Bank of Japan's policy meet set for later this month and analysts expect the central bank to give in to the demands to hike inflation targets to 2 percent.
Earlier in the day, speaking at the BoJ's quarterly branch managers' meeting, the central bank governor Masaaki Shirakawa acknowledged that deflation remains a major cause of concern for the Japanese economy.
"The BOJ will pursue aggressive easing in a continuous manner through a combination of virtually zero interest rates and a steady increase in its asset purchase program," the Nikkei quoted the governor.
Outside Japan, sentiments were not as bright, as investors awaited fourth quarter results from US heavyweights as the corporate earnings season continues. Firms in the spotlight this week include Intel, General Electric, Goldman Sachs and Bank of America.
Meanwhile, the US economic concerns made a modest rebound after Federal Reserve Chairman Ben Bernanke, in his first speech of the year, appealed to lawmakers to raise the debt ceiling to avoid another potential fiscal crisis. A failure to raise the debt limit could result in US defaulting on its debt. But the issue may not be as smooth as traders would like. President Barack Obama has made it clear that he would not negotiate on the spending cuts plans for raising the borrowing limit.
Major Movers
Electronic firms traded higher in Tokyo. Shares of Olympus Corp were up 9.28 percent. Panasonic Corp and Casio Computers were up 5.26 and 4.56 percent. Financial firm Nomura Holdings traded 2.24 percent higher after a Nikkei report indicated that the company would continue its cost-cutting measures.
However, some of the major tech firms in the region that are related to US major Apple slipped following reports that the iPhone maker reduced the number of LCD panel orders. Sharp fell 2.42 percent in Japan, while in Seoul, LG Display dropped 2.42 percent. Samsung Electronics, Apple's rival, was also down 2.06 percent.
Financial firms extended gains in Hong Kong. Ping An Insurance Group added 1.09 percent while China Life Insurance was up 1.12 percent.