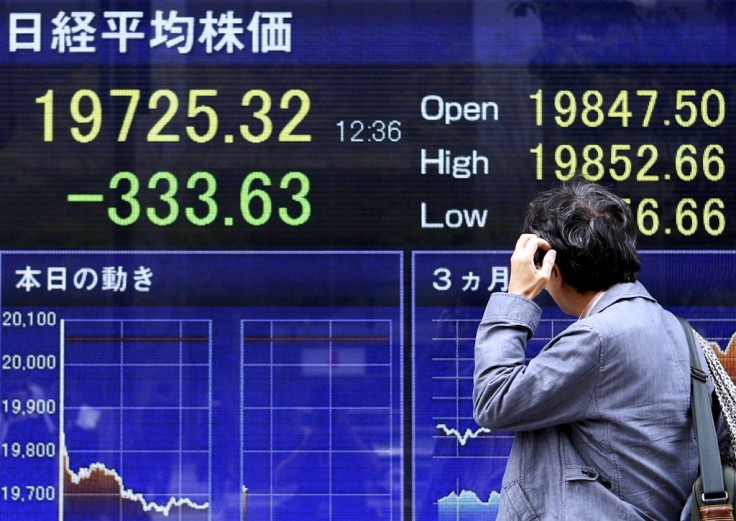 Asian markets traded lower on 30 April, pulled down by news that growth in the US, the world's leading economy and a key export destination for Asian countries, almost stalled in the first three months of 2015.
The Japanese Nikkei finished 2.69%, or 538.94 points, lower at 19,520.01.
Australia's S&P/ASX finished 0.83%, or 48.60 points, lower at 5,790.00.
The Shanghai Composite finished 0.78%, or 34.96 points, lower at 4,441.66.
South Korea's Kospi finished 0.72%, or 15.46 points, lower at 2,127.17.
Hong Kong's Hang Seng finished 0.94%, or 267.34 points, lower at 28,133.00.
India's S&P BSE Sensex finished 0.79%, or 214.62 points, lower at 27,011.31.
The US economy expanded at a 0.2% seasonally adjusted annual rate in the first-quarter of 2015.
Capital Economics said in a note to clients: "The [US] economy [was] all but stagnated in the first quarter, as lower energy prices triggered a big drop in mining investment, but did little to boost consumer spending because of the impact of the unseasonably cold winter in the Northeast."
Capital Economics said in a separate note "The latest FOMC statement released [on 29 April] suggests that Fed officials still believe economic growth and inflation will rebound. But until they see evidence of such a rebound, which could take another few months, they are in no rush to raise interest rates from near-zero."
Market movements
In Tokyo, the Nikkei posted its biggest loss in four months, finished below the psychologically important 20,000 level. The benchmark index was pulled down by the Bank of Japan's (BoJ) announcement, lacklustre corporate earnings and weak US growth data.
The BoJ on 30 April, left monetary policy steady but cut its forecasts for economic growth and inflation.
Data highlighting better-than-expected industrial production could not boost sentiment.
Japanese factory output fell for a second successive month in March. The 0.3% decline in output compared with a median market forecast for a 2.3% drop. Factory output in the world's third-largest economy fell 3.1% in February.
In Sydney, the ASX finished at a six-week low.
IG market strategist Evan Lucas said in a note to clients: "There was clear exhaustion from the bulls at 5,990 points... and the signs are growing for the ASX to ease after rocketing up 7.8 percent year-to-date. There is nothing wrong with a healthy pullback."
In Mumbai, the Sensex finished at its lowest level since 7 January, 2015. Indian markets will be closed for a public holiday on 1 May.
Company stocks
In Tokyo, Honda Motor lost 6.67%, a day after news that the automaker's profit for the fiscal fourth quarter tanked 43% when compared to a year ago.
Takeda Pharmaceutical lost 2.13% after agreeing to pay $2.4bn to settle US lawsuits alleging that the drug maker hid the cancer risk of its Actos diabetes drug.
In Sydney, banking stocks were hit on speculation that next week's earnings could miss expectations.
ANZ shed 2.19% while Westpac lost 2.51%. Commonwealth Bank of Australia and National Australia bank lost 1.88% and 1.84% respectively.
In Shanghai, China Eastern Airlines finished 6.73% higher, buoyed by lower aviation fuel prices. Rival China Southern Airlines gained 2.18%.
High-speed train manufacturers China CNR and CSR lost 4.52% and 3.94% respectively after Canada's Bombardier refuted reports that its train business could be sold to the Chinese firms.
Industrial and Commercial Bank of China (ICBC) lost 2.17% after it posted a 1.4% increase in net profit in the first-quarter, marking its slowest pace in eight years.
China Construction Bank and Bank of China lost 1.86% and 2.17% after they reported their slowest first-quarter profit growth in six years.
In Seoul, Cheil Industries, the de facto holding company of Samsung Group, fell 4.80%, pulled down by a 61% on-year slump in operating profit for the first-quarter.
Search portal Naver dropped 4.27% after the 3% rise in its first-quarter operating profit missed forecasts.
In Mumbai, Axis Bank settled 2.70% higher while JLR-parent Tata Motors lost 2.21%.