In a historic address in the US Congress the Prime Minister of Japan, Shinzo Abe, offered his "deep repentance" for Japan's actions during World War II.
Abe, who is on a diplomatic tour of the US, was the first Japanese PM to speak to a joint session of Congress. He pleaded with law-makers to support a new Trans-Pacific Partnership (TPP), which is aimed at liberalising markets in 12 Pacific Rim countries including New Zealand, Mexico and Peru and "spreading the values of democracy."
"It is also about our security," said Abe. "Long-term, its strategic value is awesome. We should never forget that. Let us bring the TPP to a successful conclusion through our joint leadership."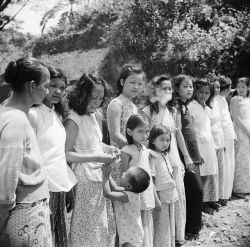 There is reported to be scepticism in the US over whether Abe can force through reforms to Japan's economy.
However, the part of Abe's speech which attracted most scrutiny for many listening was when he addressed the Pacific conflict during World War II in which a quarter of the US's overall losses of 400,000 soldiers died. Abe had earlier laid a wreath at a memorial to US soldiers.
"My dear friends, on behalf of Japan and the Japanese people, I offer with profound respect my eternal condolences to the souls of all American people that were lost during World War Two,'' said Abe.
Although words were applauded within Congress, there was some disappointment outside among those who had been affected by the behaviour of Japan towards its Asian neighbours during the conflict.
Thousands of Korean and Chinese women were forced to work in Japanese military camps as "comfort women" or sex slaves during the war, one of whom, Lee Yong-soo, was invited into Congress to hear Abe speak.
However Abe did not go as far as making an apology, saying only that Japan "brought suffering to the peoples in Asian countries", adding: "We must not avert our eyes from that."
During the speech Abe also discussed a new treaty between the US and Japan which clarifies US commitments to Japan's territory, including islands also claimed by China.