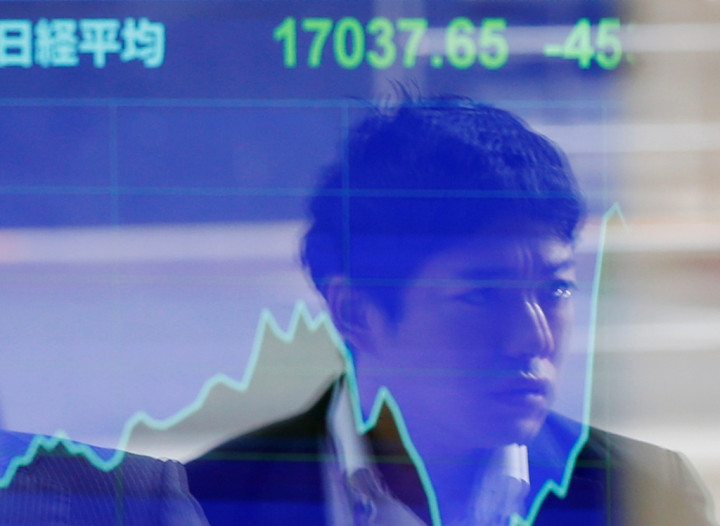 Asian markets traded lower on Monday, 17 November, on news that Japan, the world's third largest economy, had slipped into recession.
Mainland Chinese stocks entered red territory after drawing support from the debut of the landmark Shanghai-Hong Kong Stock Connect scheme earlier in the day.
The Japanese Nikkei finished 2.96%, or 517.03 points, lower at 16,973.80.
Australia's S&P/ASX finished 0.77%, or 41.80 points, lower at 5,412.50.
South Korea's Kospi finished 0.08%, or 1.51 points, lower at 1,943.63.
The Shanghai Composite was trading 0.16%, or 4.08 points, lower at 2,474.74.
Hong Kong's Hang Seng was trading 0.95%, or 2229.93 points, lower at 23,857.45.
And India's S&P BSE Sensex was trading 0.31%, or 86.44 points, lower at 27,960.22.
GDP data from Tokyo showed that the country's economy contracted 1.6% year-on-year in the July-September quarter, as against a 2.1% increase forecast by economists polled by Reuters.
That followed a revised 7.3% contraction in the second-quarter, which was the biggest drop since the March 2011 earthquake and tsunami.
Capital Economics said in a note to clients: "The surprising fall in Q3 GDP suggests that (Japanese prime minister Shinzo) Abe will call off the planned increase in the sales tax next October."
Westpac Banking's senior currency analyst Sean Callow wrote: "A soft result is likely to be enough for (Japanese) PM Abe to announce postponement of the consumption tax rise (8% to 10%) from Oct 2015 to some time in 2017. This announcement is likely (on 18 November or 19 November), along with an early election plan."
BofA Merrill Lynch: "The dependency of financial markets on low interest rates has grown. The impact of [US Federal Reserve] QE tapering this year was temporarily masked by increased Treasury buying by China and US banks that is now slowing. And increased asset purchases by the [Bank of Japan] and ECB will not be able to provide a full offset to the end of Fed purchases.
"Indeed, estimates show a sharp reduction in the global liquidity created by the Fed, BoJ and ECB balance sheet expansion until March 2015. Purchases of assets by the BoJ and the ECB will be enough to offset the end of the Fed's QE only by May.
"This suggests that, without the Fed put, markets may become more volatile in the months ahead."
The Nikkei added 3.62% last week on rumours that Prime Minister Shinzo Abe could push back a looming consumption tax increase and garner support for future economic reforms with elections.
Stock Connect
The Shanghai-Hong Kong trade link scheme's debut followed a statement by China's Finance Ministry, which said on 14 November that it will temporarily exempt taxes on profits made from the scheme.
The scheme's debut comes against a backdrop of slowing growth in the world's second largest economy.
Credit growth in China weakened in October, the People's Bank of China's said on 13 November. Aggregate financing dropped to 662.7bn yuan ($108bn, £69bn, €86bn) in October from 1.05tn yuan in September, PBoC data showed.