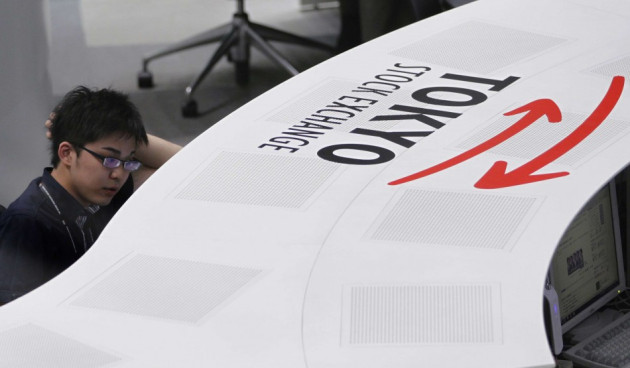 Asian markets outside Shanghai were up as US earnings and industrial production data encouraged investors while Moody's maintained Spain's credit rating above the 'junk' status.
Japan's Nikkei average gained 1.33 percent or 115.57 points to 8816.88 as the Yen weakened against the Dollar. South Korea's KOSPI gained 0.81 percent or 15.63 points to 1957.17.
Hong Kong's Hang Seng was up 0.85 percent or 179.83 points to 21386.90. The Shanghai Composite Index was down 0.11 percent or 2.39 points to 2096.42.
US Markets rallied earlier after major companies such as Johnson & Johnson and United Health Group increased their 2012 profit expectations after the third quarter results beat market expectations.
Meanwhile, US Industrial production rose 0.4 percent in September from a revised 1.4 percent drop in August, although factory output was seen to be slow.
Concerns over eurozone eased after Moody's provided the much needed breather to Spain by retaining its credit rating at Baa3 status, just a spot above the 'junk' level, citing the country's efforts to manage its financial situation.
"In reaffirming the Baa3 rating and keeping their negative outlook Moody's have basically remained unchanged, and avoided the bout of mandatory selling that would have followed if Spain's debt had been given junk status," said Jason Hughes, Head of Premium Client Management at IG Markets.
However, traders in China remained cautious ahead of the quarterly gross domestic (GDP) data expected later this week. Analysts expect the country's growth to slow down to 7.4 percent, increasing investor concerns in the region.
Major movers
Exporters extended gains in Tokyo. Electronics major Sony was up 2.13 percent while Canon gained 1.71 percent. Toshiba rose 1.47 percent. Shares of Panasonic traded 2.43 percent higher, following reports that the company secured $7.6bn loan commitment from major Japanese banks.
Automobile major Suzuki gained 2.62 percent following the release of a new version of its Alto car through a joint venture with Maruti in India. Other auto makers Toyota and Honda also traded higher, by 1.49 and 1.10 percent respectively.
Mobile carrier Softbank continued to rise, gaining 3.22 percent, following the confirmation of its plans to acquire the major stake in US telecom firm Sprint Nextel.
Cargo transportation related firms were up in Hong Kong. China Merchants Holdings International gained 3.78 percent while Cosco Pacific was up 3.45 percent.
Shares of shipping related firms rose in Seoul as well. Korea Line Corporation gained 15 percent while Hanjin Shipping rose 3.88 percent.
Industrial stocks fell in Shanghai. Beihai Gofar Marine Biological Industry dropped 5.65 percent while Yantai Xinchao Industry slid 5.17 percent. Shares of Baoshan Iron & Steel Co were down 0.22 percent.