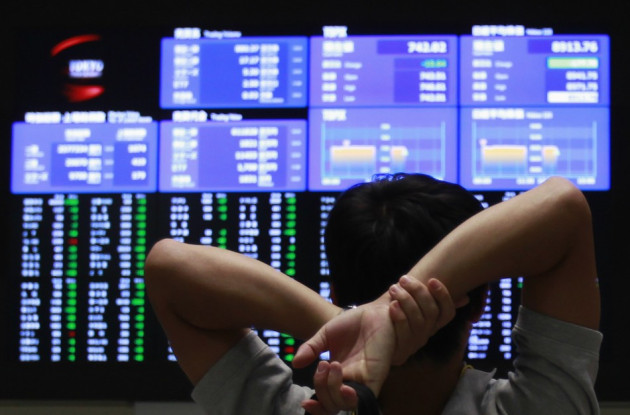 Asian indices moved up this week amid positive economic indicators from China, mixed quarterly earnings from major US companies and easing concerns on the eurozone.
Japan's Nikkei 225 average gained the most in almost ten months, rising 5.5 percent in the week on the back of a weak yen that encouraged investors to buy up shares of export firms.
Hong Kong's Hang Seng added 2 percent while China's Shanghai composite index advanced 1.1 percent. South Korea's KOSPI increased 0.6 percent.
US quarterly corporate earnings made significant impact on investor sentiments. Earlier in the week, US financial giant JP Morgan and Wells Fargo posted better than expected results. Citigroup added to the earnings, reporting robust third quarter profits even after a weak year on year net income.
Official data released mid-week also showed that US housing starts jumped 15 percent in September. But quarterly earnings of technology firms Google and Microsoft released towards the end of the week dampened sentiments across Asia sending tech related shares down.
Weekly employment data from the US failed to meet expectations as well. Initial jobless claims rose to 388,000 from 339,000 in the previous week.
Investors in China remained cautious early in the week, as the country's gross domestic product (GDP) data was expected to be released. China posted better than expected September export and inflation figures over the weekend, but the positive indicators were offset by concerns over the economy.
However, official data showed that Chinese economic growth was in line with the market expectations, contracting to 7.4 percent in the third quarter. Other data showed that industrial production and retail sales rose in the month of September, raising hopes of the economy picking up in the final quarter.
But China's foreign direct investment data released by the end of the week showed a year on year decline of 3.8 percent.
Concerns on eurozone eased after Spain was reported to be in line to receive international aid in the coming weeks and Greece gained the appreciation of European leaders for its significant measures to contain its finances.
Eurozone leaders who met in Brussels were reported to have come to a general consensus about a supervisory body to monitor eurozone banks.
Investors remained considerably positive in Tokyo, led by shares of firms with international exposure, after the yen weakened against the dollar and the euro. Japanese automobile firms Toyota, Nissan and Honda gained reversing previous losses on concerns over sales in China.
Japan's Prime Minister Yoshihiko Noda attempted to cheer up the sluggish Japanese economy by asking his cabinet to draw up a fresh financial stimulus plan by the coming month. However, the size of the amount and its implementation were not made available, prompting speculations on its effectiveness.
Major Asian indices ended the week mixed. Japan's Nikkei and Hong Kong's Hang Seng index closed 0.22 and 0.15 percent higher while South Korea's KOSPI and China's Shanghai Composite index was down 0.79 and 0.16 percent.