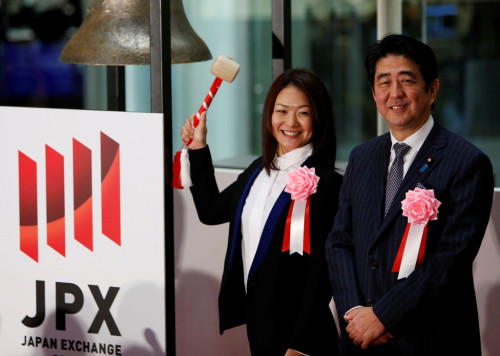 Japanese stocks logged a new six-year closing high on 30 December, their final trading day of 2013, after the US dollar-yen struck a new multi-year high.
Trade elsewhere in Asia remained passive owing to the holiday period.
In mainland China, a Xinhua news report that said Beijing would "severely deal with" companies that performed poorly in 2014 pulled down investor sentiment.
In Japan, the yen dropped to a fresh five-year low of 105.41 against the greenback.
A weaker yen also weighed down on sentiment in South Korea. Deputy finance minister Eun Sung-soo warned that the yen was dropping too fast against the Korean won -- a depreciating yen would dent the competitive advantage of Korean manufacturers.
Regional markets witnessed lacklustre trade on the final trading day of 2013 as markets in the Philippines, Japan, South Korea, Taiwan and Thailand remained shut for holidays.
Financial markets in Australia witnessed a shortened session on New Year's eve.
China's debt levels remained in focus on Tuesday after the National Audit Office revealed that 36,300 local governments owed nearly $3tr.
Analysts fear that any default by local governments could weigh down on China's economic growth.
ANZ economists Liu Li-Gang and Zhou Hao said in a note to clients: "While China's total government debt remains low by the OECD standards, the pace of the rise is still alarming."
"This national debt audit result could indicate that China's local government debt almost doubled in about 2-1/2 years."
Markets witnessed mixed trade on 2 January amid subdued trade owing to the holiday period.
South Korean and Thai indices were among the top losers.
Concerns surrounding slower economic growth in China weighed down on mainland stocks. Economic data from HSBC showed that manufacturing activity in China expanded at its slowest pace in three months in December.
Frederic Neumann, managing director and co-head of Asian Economics Research at HSBC said: "The biggest surprise here is the weak new export order reading with new orders contracting. We had the Korea PMI out earlier as well, which also showed contracting export orders so the trade cycle isn't firing on all cylinders."
Elsewhere, in Thailand, the benchmark SET index lost 5.23% to finish at 1230.77, a near 16-month low, on concerns of a delay in February's snap elections. The Thai baht dropped to a four-year low against the US dollar.
Regional markets traded lower on 3 January, following downbeat cues from Wall Street, as investors took profits amid subdued trade.
Financial markets in Japan remained closed and would resume trade on 6 January.
Elsewhere, mining stocks in Australia were pulled down by the previous day's downbeat China factory activity numbers.
The Week Ahead
The world's second-largest economy will put out inflation and trade balance figures for the month of December.
China will also release industrial production, retail sales and new loan disbursement numbers for the month of December.
Meanwhile, HSBC will put out its China services PMI reading for the month of December.
The Bank of Japan will release the results of its monthly economic survey.
The Australian government will release retail sales data for the month of December.
Australia will also put out building permits and trade balance data for the month of November.
Elsewhere, New Zealand will release trade balance data for the month of November.