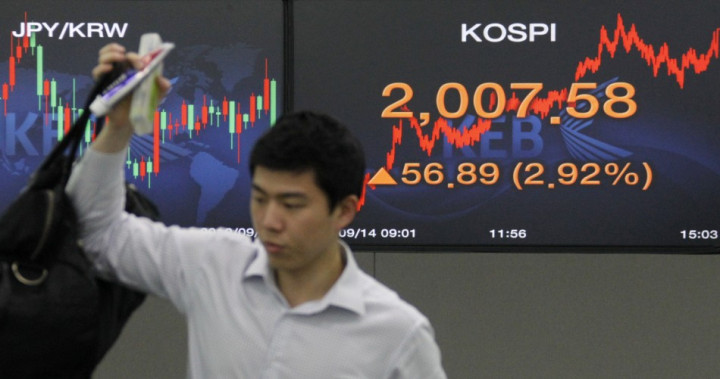 Asian shares were mostly up in 15 July trading after China posted better-than-expected gross domestic product figures for the second quarter.
Figures from the National Bureau of Statistics showed the world's second largest economy grew 7% year-on-year in the April to June period, unchanged from the pace of growth from the previous quarter.
That edged out expectations for a 6.9% increase from analysts.
But Chinese shares failed to rally on the data, with Shanghai's benchmark composite index down 2.4% to 3,830.48 points at around 4.30am GMT.
Hong Kong's Hang Seng Index was also down, trading 0.4% lower at 25,018.72.
"It [China's growth] is a little bit better than expectations. We had expected 6.8 [percent year-on-year]," Louis Kuijs, chief China economist at RBS, was quoted as saying by Reuters.
"The higher frequency data suggests... we can start to talk about growth seeming to have bottomed out."
China also released its industrial production data for June which showed factory output had grown 6.8% compared to a year earlier - well over analyst forecasts for a 6% increase - while retail sales over the same period jumped 10.6%.
Meanwhile, Tokyo's benchmark Nikkei index was up 0.2% at 20,444.74 points after the Bank of Japan kept its monetary policy steady and slightly downgraded its economic growth forecasts.
"Japan's economy is expected to continue recovering moderately," the central bank said in a statement.
"Inflation expectations appear to be rising on the whole from a somewhat longer-term perspective."
Elsewhere, South Korea said its unemployment rate held steady at 3.9% in June. The KOSPI index was up 0.4% at 2,069.21.
Australia's benchmark S&P/ASX 200 index climbed 0.9% to 5,629.69.