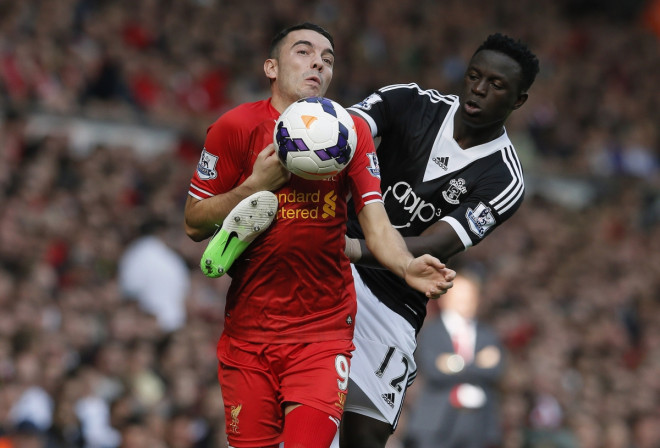 Liverpool Spanish striker Iago Aspas has told IBTimes UK that Brendan Rodger's methods are quite similar to the tiki-taka style that in recent years have seen both Barcelona and Spain conquer the world.
During his successful career at Celta Vigo, where he scored 50 goals in 152 appearances, Aspas was managed by both current Barcelona B manager Eusebio and former Rafa Benitez assistant at Liverpool, Paco Herrera.
Asked in an interview with IBTimes UK about Rodger's style, Aspas said: "He is a young coach with Spanish philosophy."
"I was used to train with Eusebio and Paco Herrera at Celta and the training sessions are almost equal. Maybe a little more physical but Rodgers also likes dealing with the ball and having the possession. Indeed two days a week we do 'rondos' (a Barcelona popular training method which consists of passing the ball between each other with just one touch in a circle) like Barcelona. I also did that with Eusebio at Celta. They both want to have the ball, Rodgers insists we do that a lot. "
Rodgers has always tried to imitate the Catalans' game, with its emphasis on short passing and the stamina to press the ball for 90 minutes.
His former Swansea side were even dubbed "Swansalona" while at Liverpool even though he tried to impose the passing game during his debut season he has finally opted for a more direct and counter-attack approach.
Questioned about the difference between this Liverpool who are leading the Premier League and the one that finished last season in seventh, Aspas said: "For me last year having not qualified even for the Europa League was a failure."
"A club like Liverpool, who have five Champions League cups and are considered one of the best clubs in Europe, always have to play in Europe. This year we are meeting the expectations, we are fighting for the league and qualification for the Champions League is almost assured," Aspas added.
"From the first day I have seen the expectations are very high as it should be because of Liverpool's history. The quality of the players and the desire of winning that they show in every training session are the reasons that keeps us winning."