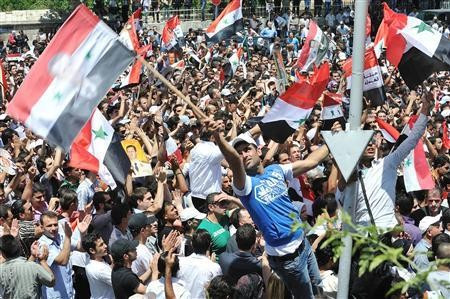 Amnesty International has declared that the Syrian security forces may have committed crimes against humanity during a deadly operation last month in a town near the Lebanese border.
Citing witness accounts, the London-based rights group accused Syria of rounding up scores of male residents in Talkalakh and torturing most of them, with at least nine people dying in custody.
In a report issued Wednesday, Amnesty said the assault appears to be part of a "widespread, systematic attack against the civilian population," which would constitute crimes against humanity and the organisation urged the U.N. Security Council to refer the situation in Syria to the International Criminal Court.
Anti-Assad demonstrations are still taking place as the people say they have lost the trust in their government and on Tuesday, Syrian government forces opened fire on civilians in the central city of Hama, killing at least 11 people.
Activists said the shootings took place after troops moved tanks around the city's outskirts in apparent preparation for an assault. The crowd however refused to back down and citizens counter-attacked by setting up dozens of roadblocks and set debris on fire to prevent the advance of tanks currently ringing the town.
Confirming that the population is now firmly standing up to the regime's brutal repression , it has also been reported that angry Hama residents burned tires, trashed bins and set up sand barriers and other obstacles to block the expected assault.
Reports also indicated that the security forces also launched a second attack in northwest Idlib province on Tuesday.
Following the crackdown, the U.S. and Britain urged Syria to immediately pull its forces from Hama and other cities and Reuters quoted a French Foreign Ministry spokesman Tuesday as calling on the United Nations Security Council to adopt a firm stance against what he called Syria's "unacceptable, ferocious armed repression."
France has been one of the most vocal countries regarding Syria's current situation and has said several times that Assad has lost his legitimacy to rule and should therefore step down. In early June, the UK and France both presented a draft UN resolution condemning Syria's suppression of protests.
The text however has faced stiff opposition from some Security Council members, who fear a resolution could be the first step towards military intervention, with China and Russia insisting they will not allow a resolution to be passed.
Rights groups say Syrian security forces have killed at least 1,300 civilians since mid-March while trying to suppress the anti-government uprising.