The hit video game series Assassin's Creed is set to be adapted for the screen, with Bafta-nominated actor Michael Fassbender set to star.
The game series, which has been a huge success on the X-Box 360 and Playstation 3, revolves around a family line of Assassins, who battle with the Knight's Templar throughout a series of historical periods.
The common thread through the games is the character of Desmond, a man in the future who is being forced to travel through time and into the consciousness of his ancestors, carrying out assassinations in the Renaissance, the Crusades and most recently in the American War of Independence.
Fassbender, who will also co-produce the film, has experience when it comes to swords-and-sandals epics, having starred in Neil Marshall's Centurion (2010) and Zack Snyder's 300 (2006).
Jean-Julien Baronnet, CEO of Paris-based Ubisoft, the makers of the games series, told Variety: "Michael Fassbender was our first choice. [He] is an extremely smart, talented, versatile and committed actor."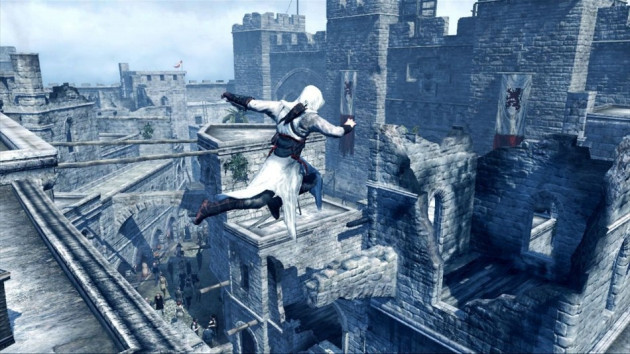 Video games have a decidedly tattered history when it comes to film adaptations. Several games that on the surface appeared perfectly suited to the screen were disappointments.
Adaptations of Doom, the Prince of Persia, Hitman and Max Payne are recent examples of films that have failed to satisfy fans of the games while also attracting new viewers. It is only the Resident Evil series, critical pannings notwithstanding, that has been a success.
Makers of the Assassin's Creed film will have most keenly watched the adaptation of Prince of Persia, starring Jake Gyllenhaal, in 2010, which grossed just $335m (£216m) worldwide, a poor showing considering its huge budget and series potential.
However, despite being an adaptation of a different game, the Prince of Persia appeared to make use of some of the most iconic imagery of the Assassins Creed series, including having the hero crouched atop the highest point on a building and performing a swan dive - something that can be found in every Assassin's Creed game.
Ubisoft has chosen a leading man with the acting capabilities for the role. Many believed Fassbender was unfortunate not to pick up an Oscar for his incredible performance in 2011's sex addict drama Shame and he has already accumulated a back-catalogue of heavyweight performances. That's not to say he will shy from blockbuster action, as his role in X-Men First Class proved.
The adaptation has had a rough road to being confirmed, as it was originally going to go forward with Sony before talks fell apart in 2011. Now Ubisoft has formed a new film wing, called Ubisoft Motion Pictures, and will look to pick up a director and writer before reopening talks with Sony.