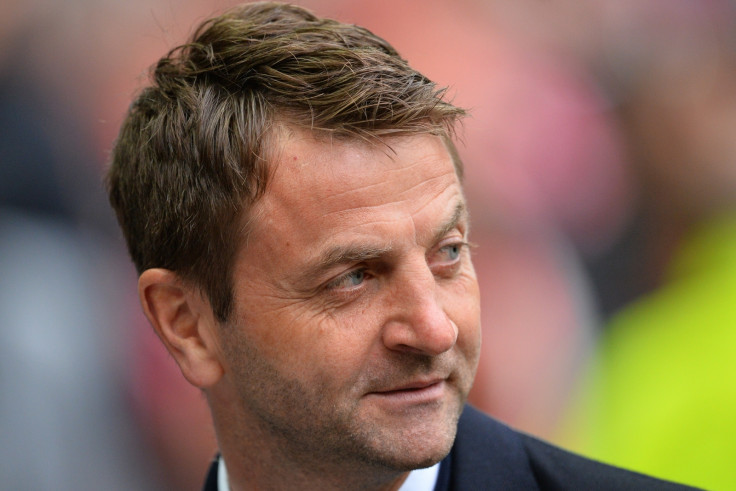 Just Aston Villa's second passage into an FA Cup final since 1957 with victory over a Champions League club in Liverpool might be the key headlines emerging from the Midlands club's Wembley success but perhaps the win will represent a landmark moment for manager Tim Sherwood.
For so long labelled the gilet-wearing "Tactics Tim", a cockney smart-aleck who blagged his way into one of the highest profile jobs in English football, Sherwood deserves greater respect than patronising nicknames, jibes against his managerial temperament and accusations his good humour represents his only redeeming feature.
Arriving at a Villa side who has scored 12 goals in 25 games in the Premier League, Sherwood has taken just two months to transform the club's fortunes. No longer an awkward, rudderless unit in attack, Villa have already doubled their goal tally in the eight league games Sherwood has been in charge.
The improvement can be viewed through the recent form of Christian Benteke, who has produced a run of goals in keeping with his reputation as one of the best strikers in the top flight. Nine goals have come in his last seven games and such an asset makes Villa's task of surviving relegation, a challenge that is not yet over, significantly easier.
Upon arriving at Villa, Sherwood viewed the service to Benteke and strike partners Gabriel Agbonlahor and Andreas Weimann as the key reason behind the shortfall in goals. Therefore, Benteke's average touches per game have rocketed up since Sherwood's appointment and it is no surprise his goal haul has followed in sync.
Sherwood's tactical masterclass overpowers Liverpool
The FA Cup semi-final win over Liverpool, a team managed by Brendan Rodgers whose own radical change of tactics had turned around the club's season, saw Sherwood mastermind Villa's finest hour this season and arguably the biggest win of his football career.
With Martin Skrtel returning to a back three to help beef up Liverpool's defence, Sherwood stuck Benteke on Emre Can throughout the game and the German was terrorised throughout as Villa constantly had an out-ball. Sherwood employed two number 10s in Charles N'Zogbia and Jack Grealish, who were constantly darting in behind Jordan Henderson and Joe Allen, leaving space for Fabian Delph to roam unattended as he did for the winning goal.
Such boldness led to Villa being a threat almost every time they won possession and it was a performance that both highlighted their about-turn since Paul Lambert's departure and reflected Sherwood's attention to detail.
The 46-year-old has regularly been derided as a manager on the whim. All blood and thunder rather than craft and guile, overlooked when things go right yet culpable when it goes wrong. A blunderous, happy-go-lucky English coach whose effervescing passion sees him straddle the blurred line between genius and lunacy.
Victory at Wembley should be a watershed moment for both Sherwood and his critics. It's time for the patronising to stop and for him to be accepted for what he is, a football manager to be taken seriously and more importantly, here to stay.