There are just two weeks left to enter the Insight Astronomy Photographer of the Year 2016 competition run by the Royal Observatory Greenwich in association with Insight Investment and BBC Sky at Night Magazine. Entries must be submitted by noon UK time on 14 April.
Each entrant can submit up to 10 images to the competition. You don't have to be an expert or have fancy equipment to be in with a chance of winning a prize. The competition has nine main categories, including Skyscapes (astronomical subjects such as the Milky Way or stars alongside earthly scenery), People and Space (photographs of the night sky with people or a human interest element) and Young Astronomy Photographer of the Year (for entrants under 16 years old).
Photographers can enter their images online by visiting www.rmg.co.uk/astrophoto, where full competition rules and some top tips on photographing everything from star trails to galaxies and nebulae are also available. To inspire you, IBTimes UK presents some of this year's entries so far.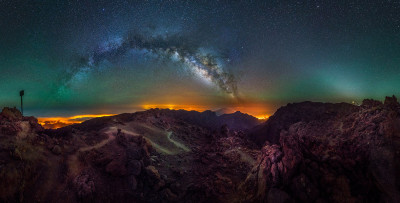 Winners will be announced at an award ceremony at the Royal Observatory on 15 September 2016. The overall winner will receive £10,000. Winners of all categories including the Young Astronomy Photographer of the Year will receive £1,500. There are also two special prizes including The Sir Patrick Moore Prize for Best Newcomer, awarded to an amateur astrophotographer who has taken up the hobby in the last year and who has not entered the competition before.
The winning photographs will be exhibited in the Observatory's Astronomy Centre from 17 September 2016. Entry to the exhibition is free.