At Mobile World Congress this week Taiwanese manufacturer Asus unveiled two devices - one called the Padfone and the other called the Fonepad.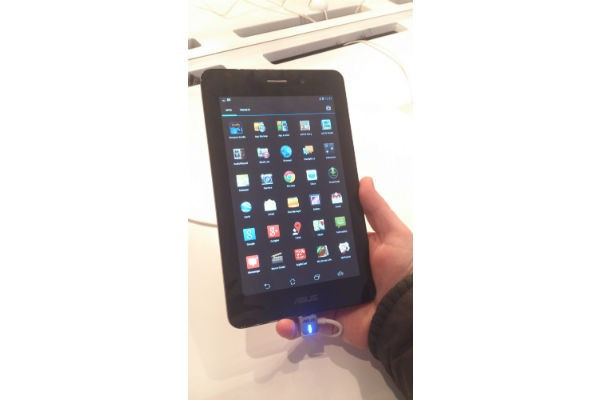 The devices are ostensibly Asus' attempt at combining a phone and a tablet into one device. And rather than going down the route followed by Samsung, Huawei, LG and ZTE and launching a slightly oversized smartphone, Asus have gone the whole hog and launched a 7in tablet which doubles as a phone.
Described by Asus chairman Jonney Shih as "the perfect combination of a tablet and phone in one single device" the Fonepad will go on sale for the highly competitive price of £179 for the 16GB model.
Of the two devices launched, the Fonepad is the craziest. What looks like a regular 7in tablet with a decent IPS display is being pushed as having "fun and call in one." In some respects it makes sense. Why shell out for two devices when one will do?
However trying to combine the functions of a smartphone with the size of a tablet is not easily achieved, and Asus has certainly not succeeded. Holding a 7in phone up to your ear is not a good look for anyone, and unless you have a particularly large head, then either your ear or mouth will be a long way from the speaker/microphone.
Away from the craziness of the full telephony support, the 7in tablet is a nice product. Well built, powerful thanks to an Intel Atom processor and with Android 4.1 on-board, it is will be challenging Google's Nexus 7 and Amazon's Kindle Fire.
It's such a pity they had to go and ruin it all by calling it a phone.
Padfone Infinity
The Padfone on the other hand has been around for a couple of years now, and makes more sense of combining the smartphone and the tablet. The Padfone Infinity, which was launched in Barcelona this week, is a 5in smartphone with an impressive Full HD display.

It has all the features you would expect of a high-end smartphone in terms of hardware, as well as the ability to dock seamlessly with the Padfone Infinity station. Slide the smartphone into the back of the tablet station and hey presto, you have a 10.1in tablet with a Full HD screen.
The premise is a clever one, and for those people who don't want to shell out huge amounts of money for a tablet when they've already paid £500 plus for a smartphone, then the Padfone Infinity could be a good solution.
Well that is maybe if it didn't cost £800. For that money you could get yourself an iPad 4, a Nexus 4 and enough left over for a couple of good nights out.
Powerful
Thanks to the quad-core Qualcomm chip and 2GB of RAM inside the phone, the Padfone Infinity has no problems powering the Full HD display of the tablet.
While the design of the phone and the tablet is some way from the refined elegance of Sony Xperia Z and Tablet Z, considering the constraints put on Asus by having the phone dock with the tablet, it has done a pretty good job.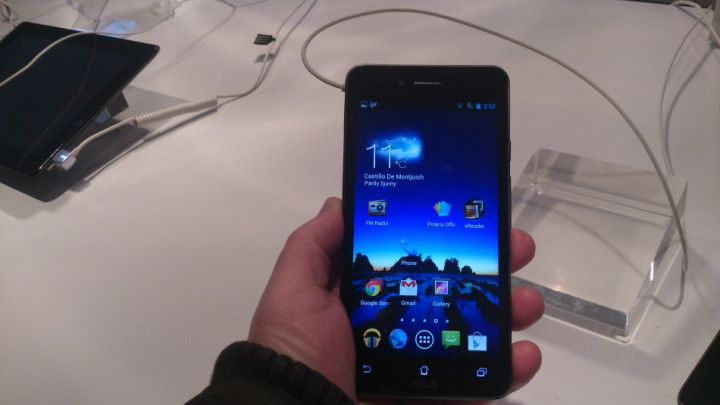 The Padfone Infinity and the Fonepad are the latest multi-use devices to join Asus' range. The company also offers the Transformer range of tablet/laptop hybrids where a traditional Android tablet docks with a keyboard dock.
Many companies now offer similar devices with most running Windows RT rather than Android.
The wide selection of Android devices which Asus offers is indicative of an industry which has still not figured out where the boundaries of certain products lie. When does a smartphone become and tablet? When does a tablet become a laptop?
Asus isn't alone in having this problem. Samsung's latest product, the Galaxy Note 8.0 can also be used to make and take calls, though Samsung were not playing that function up quite as loudly as Asus.
Problem
A similar problem has arisen since the launch of Windows 8 and Windows RT. Because of the touch-optimised Start screen manufacturers have created dozens of new laptop designs to try and win over users.
From a laptop with a rotating screen, to tablet/keyboard dock combinations all the way to a laptop with two screens, it is again clear that manufacturers - and indeed consumers themselves - have not figured out how best to take advantage of this touch-optimised world.
The result of such confusion are products like the Fonepad. Thanks to its low cost, Asus may sell some, but we don't expect to see many people walking down the street holding one to their ears shouting "I'm on my Fonepad."