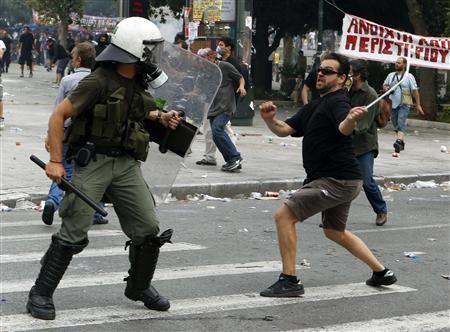 Greek police fired teargas and battled masked demonstrators as they attacked the finance ministry on Wednesday after lawmakers passed the first of two austerity bills demanded by international lenders.
The security forces used flash bombs and threw teargas projectiles as they tried to drive back the crowd that filled the square outside parliament and about 100 people were treated in hospital, according to Reuters.
While the majority of the people insisted they were there to participate in a peaceful demonstration, violent groups among the city attacked official buildings.
A group of protesters reportedly attacked the nearby finance ministry on Syntagma Square, and were also responsible for starting a fire to a post office on the ground floor of the building.
Another group tried to set fire to an office block housing a branch of one of Greece's biggest banks while across the square.
Inside parliament MPs voted by 155 to 138 to pass a framework bill on a controversial package of tax hikes, spending targets and privatisations agreed as part of an EU/IMF bailout. The result cleared the way for a second vote to pass a separate bill enabling individual budget measures and the creation of a privatisation agency on Thursday.
Having approved the €28bn (£25bn) programme of fresh taxes and cutbacks in principle on Wednesday, Greek MPs are now expected to vote on bill which will provide the government with more power over decision making, and enable it to implement new measure much more rapidly.
While most analysts are broadly confident that the legislation however many also fear that the George Papandreou government is not in the position to really implement the measures as the Greek public insist it has lost trusts and calls for the president to step down.
"If we wanted to be cynical, or realistic, we could say that the disaster scenario has been averted for now but we may well be revisiting in three or six months," predicted Gary Jenkins of Evolution Securities in a research note on Thursday morning. Jenkins fears that Greece will fail to make enough progress to placate its European neighbours and the International Monetary Fund (IMF), which it relies on for its funding.
The financial markets were broadly calm on Thursday, following strong gains on Wednesday. The FTSE 100 index opened 22 points higher at 5878, after Asian markets recorded gains. The euro gained around 0.7 cents against the US dollar, to $1.4505.
European leaders have hailed Wednesday's vote, by 155 votes to 138, as a key moment in the debt crisis that has gripped the region for many months.
"The country has taken an important step forward along the necessary path of fiscal consolidation and growth-enhancing structural reform. But it has also taken a vital step back - from the very grave scenario of default. This was a vote of national responsibility," said Herman Van Rompuy, president of the European Council, and European commission president José Manuel Barroso in a joint statement.
Attention may however shift to Italy, as the Italian cabinet meets on Thursday to approve its own austerity budget. This includes about €47bn of spending cuts and tax increases, and is rumoured to include a Robin Hood-style tax on financial transactions.