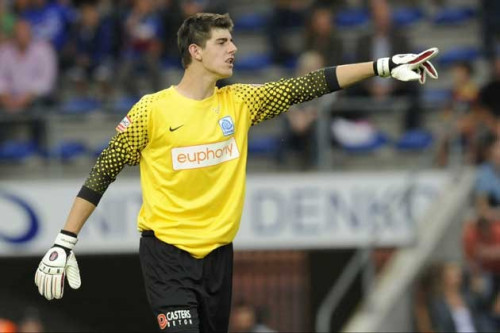 Atletico Madrid manager Diego Simeone believes the club simply must sign Chelsea loanee Thibaut Courtois on a permanent deal and is prepared to spend over €26m to secure his services.
The 21-year-old 'keeper is currently enjoying his third successive loan season at the Vicente Calderon Stadium. He joined Chelsea in 2011 following a £5m move from Genk, but with Petr Cech still the immovable number one at Stamford Bridge Courtois was sent out on loan to continue his development.
The Belgium international is now considered one of the finest shot stoppers in Europe and he has been pivotal in Atletico's latest successes – conceding the least amount of goals in La Liga last year and helping them to conquer the Copa del Rey against Real Madrid last season and the Europa League the previous campaign.
Manager Simeone is desperate to keep him in the squad next season and when asked in an interview with Spanish TV Station Cuatro of Chelsea's demands for the player he said: "Definitely. I would pay without a doubt €26m for Courtois. Whatever they (Atletico) pay will be a bargain.
"He's a young guy who has a huge future and is on track to becoming one of the best goalkeepers in the world.
"Signing a goalkeeper of his caliber would be a big step, but it will not be easy.
"It depends on what Courtois wants, the club (Chelsea) knows our needs, but it is not up to us, because he is is not our player." Simeone added.
The Belgium international has never made an appearance for the Blues and Chelsea may take advantage of Simeone's desire to get the player and earn a lucrative fee for a player that they just paid £5m for.
Recently Atletico's president Enrique Cerezo revealed that Chelsea value the player at around €25m and suggested they may offer some of their biggest stars in exchange to get the deal done.
"I believe that Chelsea have placed €25m price tag on Courtois. He is worth a lot because he is the best in Europe but €25m is too much for a keeper. Let's see what can we do."