Atletico Madrid vs Barcelona: Thomas Vermaelen joins Rafinha on injury list amid Gerard Pique uncertainty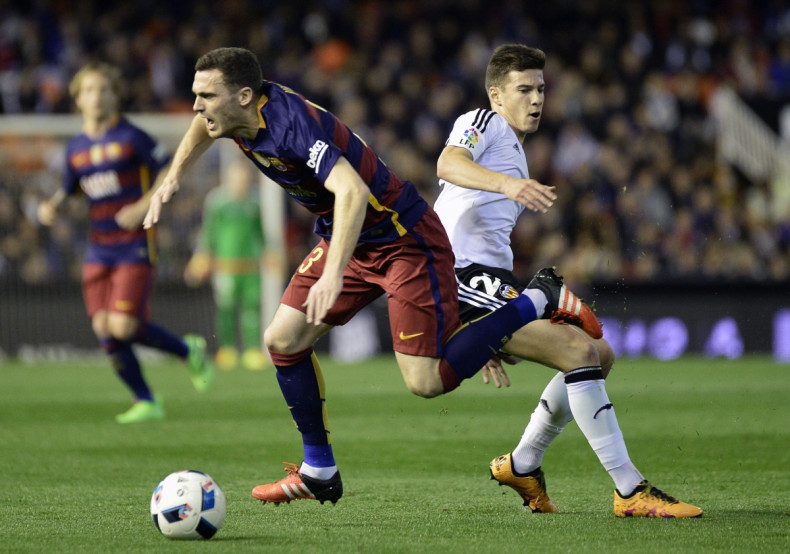 Luis Enrique's problems at Barcelona keep mounting, with the club revealing that Thomas Vermaelen suffered an injury during the Monday (11 April) training session. The news came just hours after Barca suggested Rafinha Alcantara could miss the Champions League quarter-final second leg with Atletico Madrid on Wednesday (13 April) due to a strain on his left adductor. Gerard Pique, meanwhile, has also set the alarms bells ringing ahead of the crucial European encounter after it emerged that the Spaniard missed the workout due to a problem in his hip – although initial reports suggest that the centre-back could be available for the game.
The news comes as a major blow for Barcelona manager Luis Enrique ahead of crucial games against Atletico and Valencia in their hopes to retain both La Liga and Champions League titles. The Catalan side looked in line to win the treble again a month ago but the situation has drastically changed in recent weeks following a number of disappointing results.
The current Champions League holders have seen their La Liga leadership cut to three and four points over Atletico and Real Madrid respectively after winning just one point from the last three games, including consecutive defeats in El Clasico and this weekend at Real Sociedad. Meanwhile, their hopes of making the Champions League semi-final are also under threat after they only scraped a 2-1 win against Diego Simeone's side in the first leg at the Nou Camp last week – despite playing against 10 men for most of the match after Fernando Torres was sent off.
Rafinha's setback came in the weekend defeat to Real Sociedad. The Brazilian, who was starting his first game since recovering from a six-month knee injury, was replaced at half time by Andres Iniesta with the club saying his availability for the games against Atletico and Valencia will "depend on his evolution".
Just hours later, Barcelona announced that Vermaelen has also "suffered an elongation in the soleus of his right leg", meaning that the former Arsenal star is expected to miss the game against Atletico.
Those two confirmed blows are not expected to disrupt Enrique's selection for the game against Atletico too much, as both would probably have started the game on the bench. But there are pressing concerns about Pique's availability after the leader of the Barcelona back-line missed Monday training due to a problem in his hip.
The club have not commented on his absence, but Mundo Deportivo, reporting information from Radio Cadena Ser, claimed the Spain international didn't train because of an ongoing problem with his hip. They added, however, that he was likely to be fit for the Atletico game.