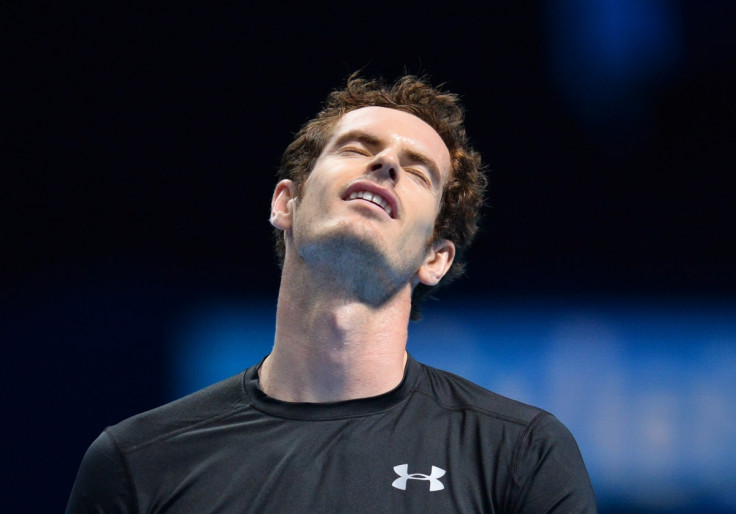 Andy Murray was sent spiralling out of the ATP World Tour Finals after a straight sets defeat to Stanislas Wawrinka - who faces Roger Federer in a repeat of last year's controversial semi-final at the O2 Arena in London. Wawrinka claimed a tight opening set on a tiebreak before surging towards a comfortable 7-6 6-4 victory which sends the British number spiralling out of the tournament.
With his team including pregnant wife Kim Sears and coach Jonas Bjorkman stationed on the third tier rather than in the players box court side, Murray produced a sub-par performance which means he is not yet guaranteed to finish the year as world number two. The two-time major champion will now turn his attention to Great Britain's Davis Cup final against Belgium in Ghent next week.
Victory for Wawrinka sees him book a last four meeting with fellow-countryman Federer in a repeat of last year's thrilling semi-final. Federer survived four match points before winning in three sets in a match memorable for the on-court spat between Wawrinka and his opponent's wife Mirka Federer and the post-match argument with the world number one which forced his later withdrawal from the tournament.
In stark contrast to the multiple qualification scenarios of the previous evening, Murray and Wawrinka faced a winner-take-all clash as the knock-out stage came a day earlier to the season-ending tour finals. Convincing victories over David Ferrer meant both players were just a win away from a meting with Federer in the second semi-final.
The pair each saw off break point chances in the opening four games of the match during a tight opening; the precursor to a thrilling opening set. Wawrinka appeared to grab the initiative after converting the second of three break point chances, before Murray broke back with the Switzerland number two serving for the set following a stunning rally.
The presence of British and Swiss fans in equal measure inside the O2 Arena meant for a febrile atmosphere, with both players initially thriving amid the pressure-filled circumstances. Wawrinka had been the pace setter for long-periods but in the tiebreak it was Murray who would take early control.
The Scot however surrendered a mini-break at the changeover following successive errors on the backhand side. Murray sent a forehand into the tramlines to give Wawrinka two set points and another wide chip gave the 2014 Davis Cup winner the opening set.
Five unforced errors in a row was followed by a break for Wawrinka in the opening game of the second set as Murray woefully netted a forehand, to compound the misery from the opening set. The French Open champion may have edged the opener but via a flurry of backhand winners ensured he was dominating Murray.
Wawrinka broke for a second time via another forehand error from Murray but the Briton threatened a revival by with an overhead volley to convert his first break point of the match. A love service hold was followed by two more break points for Murray as Wawrinka became increasingly error-strewn.
Murray took his frustration out on his racquet after seeing both opportunities go by, but Wawrinka was unable to instantly take advantage as he sent a first match point long. However, a wide Murray forehand allowed Wawrinka to close out the match and book an eagerly anticipated repeat meeting with Federer. The world number two meanwhile must turn his attention immediately to matters in Ghent, where he leads GB's hopes of winning a first Davis Cup for 79 years.
Earlier, Rafael Nadal warmed up for a 46th career meeting with Novak Djokovic in the first semi-final on Saturday [21 November] with an entertaining three-set win over fellow-Spaniard David Ferrer. The nine-time French Open champion was already assured of a place in the last four but progressed with a 100% record after overcoming an already-eliminated Ferrer in a marathon match lasting two hours and 37 minutes.
Nadal has staged a revival in London with three straight round robin wins but after being pushed to three sets by Ferrer less than 24 hours before his semi-final against Djokovic, there may yet be repercussions from the victory. But Nadal said. "I am not worried about it, no. Today was an opportunity, as I say before, to compete well.
"Two hundred points are not the same when you are No. 1 and No. 2 than when you are No. 5. Winning today is almost like winning a 250 tournament. Was a lot of points to win today. I fought to made that happen, no?
"That's a positive way to finish the season. Let's see tomorrow what's going to happen. But I am very happy about what I did in the last five weeks of the season. I finish the season the way that I really want to start the next one."