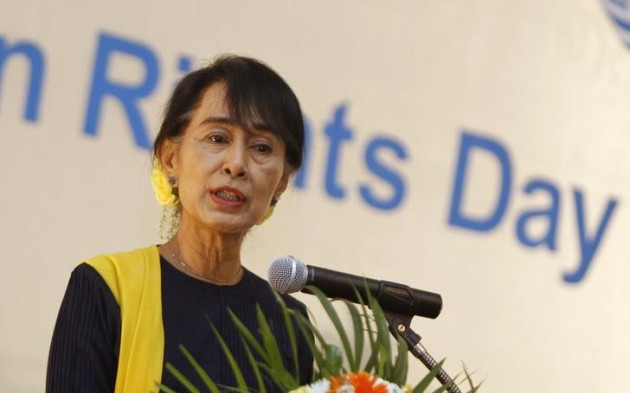 Her musical choices were intensely personal. "Most of her choices are for family reasons: connections to her childhood, to her own children," Kirsty Young told the Radio Times.
While she was held as a political prisoner, Aung San Suu Kyi's British husband, Michael Aris, was diagnosed with terminal cancer.
He attempted countless times to get a visa to visit her but each time he was denied. They never saw each other before he died.
"She speaks very poignantly of the torment she went through. It was emotional torture for her, but she refuses to self-aggrandise and plays down her personal suffering," Young adds.
"There are some people who rise above the throng. She's been through hell and back and yet she remains a woman of humour, intellect and dignity. She's a showstopper!"
During the programme, which was recorded at Suu Kyi's home in December, she admitted: "It's genuine, I'm fond of the army.
"People don't like me for saying that. There are many who have criticised me for being what they call a poster girl for the army - very flattering to be seen as a poster girl for anything at this time of life - but I think the truth is I am very fond of the army, because I always thought of it as my father's army."
She explained that while the army had done "terrible" things in Burma, she hoped it would redeem itself.
In a first for Desert Island Discs, Suu Kyi picked a record - Green, Green Grass Of Home by Tom Jones - that she had never heard before, because her personal assistant had recommended it.
She said: "I asked her which piece of music she'd like to choose and she said Green, Green Grass Of Home.
"And she explained to me when she was working as a doctor in England it used to remind her of Burma - and I hope I like it."
When Suu Kyi delivered her Nobel lecture in June last year, she said, "Long years ago, sometimes it seems many lives ago, I was at Oxford listening to the radio programme Desert Island Discs with my young son Alexander. It was a well-known programme - for all I know it still continues."
After months of negotiation and a personal request from Gwyneth Williams, the controller of Radio 4, Suu Kyi finally agreed to appear as a castaway.
The Nobel Peace Prize winner's father, Aung San, is considered the father of modern Burma, and founded its army. General Aung San was assassinated when his daughter was only two years old.
She had returned to the country from the UK to nurse her mother, and was held under house arrest for almost 15 years after giving a speech to crowds of half a million during protests and political unrest.
During long periods of confinement, Suu Kyi meditated, worked on her French and Japanese language skills, and played Bach on the piano.
She always believed it was her destiny to lead the people of Burma, even telling her English husband this on the eve of their marriage.
"I wanted to make sure that he knew from the very beginning that my country meant a great deal to me and should the necessity arise for me to go back to live in Burma, he must never try to stand between my country and me," she says.
It was 12 years before she would see her younger son, Kim, again.
When he was finally allowed to visit his mother in Burma, they would bond over a love of music.
"He brought his music with him. He had all these tapes and he would say, 'Now do you know who that is, mummy?'
"And I'd get it all wrong, but later I began to learn who was who. He plays a lot of Bob Marley, so I learnt to like Bob Marley," she says.
To hear Aung San Suu Kyi on Desert Island Discs, and nearly 60 years of other castaways, head to the BBC Desert Island Discs Archive.