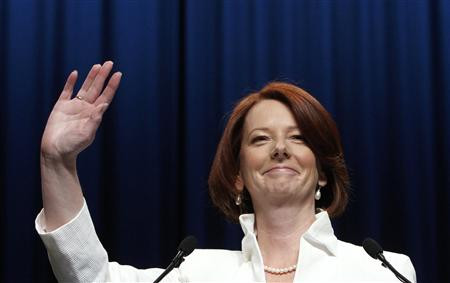 The Australian parliament has found itself in the middle of a new sex scandal after Craig Thomson, the former secretary of the Health Services in 2005, was accused of withdrawing money from his union credit card that was then used to procure the services of prostitutes, while working for the government.
Despite Thomson denying the claims, and insisting another man forged his signature to authorise the payments, accusations refuse to die down and the scandal is now threatening the entire stability of the government.
The politician, who has refused to name the man he said forged his signature, also denies reports that he made calls to several escort agencies from hotel rooms in Melbourne in 2006.
While Thomson is not accused of breaking any law, analysts warn the scandal could have serious ramifications for the prime minister.
Ms Gillard enjoys a very thin majority - of just one seat - in parliament and should Thomson resign under pressure from the press and its peers, a new election could be on the cards.
While Mrs Gillard has given Thomson her full support, declaring twice in parliament that he has her confidence, many say she is preserving her own interests by ensuring the MP continues to hold this position as his resignation or dismissal would trigger a by-election in his marginal New South Wales seat that would almost certainly see the fall of the Labour government.
Last week however the Labour party was rocked by claims it had paid up to $90,000 (£57,000) in legal fees for Thomson in order to save the MP from bankruptcy, as it would make him ineligible to hold a seat in parliament.
The government was further attacked by the opposition leader Tony Abbott, who said it is trying to cover up "grubby facts", and demanded that Thomson be stripped of the chairmanship of a parliamentary economics committee and provide parliament with a full explanation of the circumstances.
"The Prime Minister has a duty to the Australian public - indeed to members of the Labor Party, to decent, honest members of the Labour Party - to find out exactly what has happened here," Abbott said.
The party has also been hit by claims of internal divisions after former Labour powerbroker Graham Richardson last week acknowledged that Thomson could bring down the government.
"He may survive, however, because stupidity is not a bar to holding public office. His situation is illustrative of the awful truth that scandal can rear its ugly head at any time," he wrote in the Sydney Daily Telegraph.
Mr Thomson, however still maintains he has done nothing wrong.
"I have denied these allegations before - there is nothing there that is new at all," he said. "I will get on and do my job."