Five elderly Aboriginal people with medical conditions were denied access to both the local hospital and cyclone shelter as the severe tropical cyclone Olwyn moved towards the West Australian coastline north of Carnarvon on 12 March, 2015.
Ahead of the cyclone, which has been declared a natural disaster, the Aboriginal people were required to go back and forth between the hospital and the Carnarvon cyclone shelter, instead of being allowed access.
"They were told to go to the hospital, the hospital declined. And then they were told to go to the [evacuation] centre where they were also declined," said Shane van Styn, who heads the Carnarvon Aboriginal Medical Service (CAMS).
Authorities told van Styn the evacuation order of the tourism community of Coral Bay, 240km north of the town, was the reason for denying entry to the five residents of the remote Mungullah Aboriginal community, ABC reported.
Shelter: only for tourist community
"We were told by the volunteer there that they were under strict instruction that the evac centre was only for people from Coral Bay and that they won't be accepting our Aboriginal people from Mungullah Village," he said.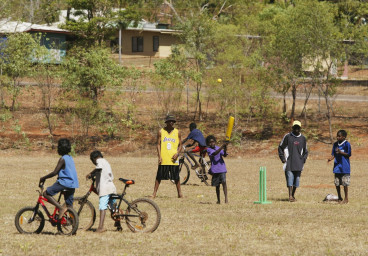 The five Aboriginal people, however, had been asked to leave Mungullah after CAMS and the Department of Fire and Emergency Services (DFES) had visited their community.
"After 2010 when people were airlifted out of this village because of roadblocks and flooding, that was the whole reason for DFES sending people in early this time to help get Mungullah prepared because it did require very expensive airlifting of the patients. We were looking to avoid that," van Styn explained.
"There were four elderly people including amputees on dialysis, and one younger person suffering severe personal health issues."
"Upsettingly" empty shelter
Van Styn said he was given a number of other reasons why the Mungullah residents could not enter the then empty evacuation centre, including: "There's no room, no food, not sufficient power, the air-conditioning doesn't work, the bedding's not right, you're not from Coral Bay."
"Given the fact the centre was empty and we were the first five and they were elderly and frail, then seeing a couple of Europeans, tall, strong, fit backpacker guys, walk straight past while we had our dispute, and being signed in and to grab a seat and make themselves at home, was a bit upsetting," he said.
Negotiations over where the Aboriginal people could be sheltered continued throughout the evening, as the CEO met with representatives from the hospital and the evacuation centre. While one man was admitted into the shared room at the hospital for more acute care after seven hours, the remaining Aboriginal people were finally allowed to enter the cyclone shelter.
Mark Richards, the Murchison District Director of the Department of Child Protection and Family Support responded to the claims, saying that "people were not denied access".
The cyclone lashed Western Australia communities with winds of up to 87mph (140kph).