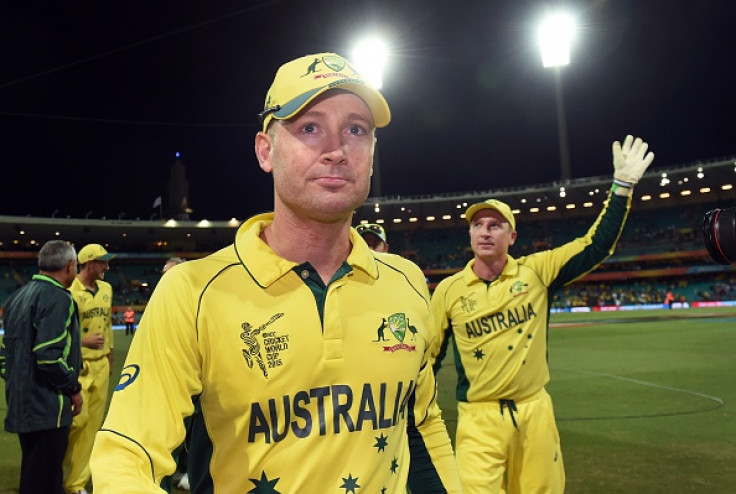 Australia captain Michael Clarke claims the defeat against New Zealand during the group stages was the turning point for his side in the 2015 ICC World Cup.
The two co-host nations were pitted in Group A and their sides clashed at Eden Park, Auckland on February 28. New Zealand sealed a narrow one wicket win and Clarke says the defeat had helped his players bounce back stronger in the tournament.
Australia's 95 runs over India in the semifinal has helped them make it to the final, where they will face Brendon McCullum's side at Melbourne Cricket Ground on Sunday.
"I think New Zealand will take confidence that they've beaten us in the tournament, but I believe that was the turning point in this tournament for the Australian team," Clarke explained.
"I think that gave us a bit of a kick up the backside. We knew we got a good look at a very good team playing at the top of their game, certainly with the ball, and I think our attitude from that day has been exceptional. I think we've trained really well, we're prepared so well for every game."
"The boys have got out of bed every single day to try and become better, and I think you've seen that in our results, so I think we've been building - we've grabbed momentum and we've tried to run with it and we've been improving every single game, and I think that'll hold us in really good stead for Sunday," he added.
New Zealand are unbeaten in this edition of the World Cup and their last victory was against South Africa in a nail biting semi final on Tuesday. It is their first World Cup final and one more win will see the Black Caps lift the trophy for the first time in their history.
Australia played their semifinal match on Thursday and Clarke claims his side have less time compared to New Zealand to prepare for the final on Sunday.
"We haven't got much time, and recovery will be our goal and our focus over the next two days. We'll have training on Saturday, but I think that'll be selected players and optional. I don't think our bowlers will do too much," the Australia captain said.
"Smithy probably doesn't need to hit too many balls, although he probably will. But yeah, recovery is what's important now. We fly now, I think our flight is in the morning, so blokes will recover tonight, blokes will recover when we land in Melbourne."
"I think physical recovery is the most important thing for us right now. I think mentally the team is ready for this final. If the game was today or the game was tomorrow, I think we're ready mentally," Clarke concluded.