Australia World Cup 2014 Profile: Chances Riding On Luck, a Dream, and the Cahill Expressway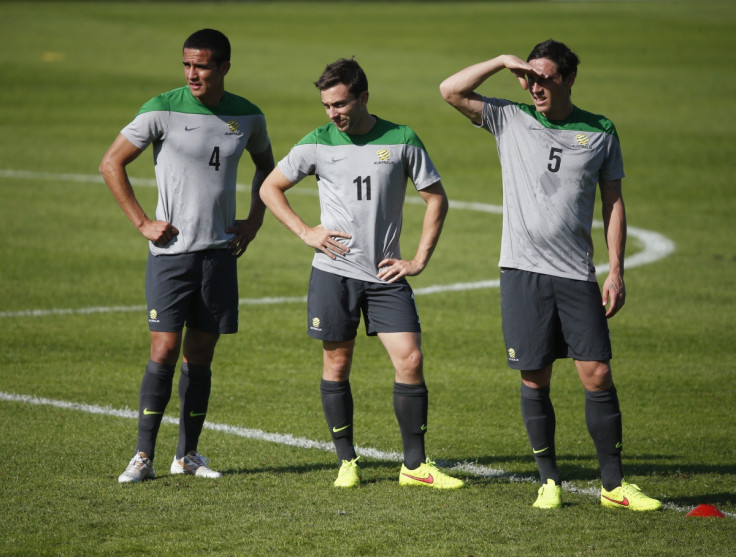 Manager: Ange Postecoglou
World Ranking: 62
How they qualified: While it was expected that Australia would breeze through the qualification stages, shock draws against Oman and Japan and a 2-1 loss to Jordan left the side in need of results to go their way if they hoped to get on the plane to Brazil. They picked up their form and on beating Iraq 1-0 thanks to a late goal from Josh Kennedy Australia were able to seal qualification in their final match.
Fixtures: Chile (June 14), Netherlands (June 18), Spain (June 23)
Squad:
Keepers: Eugene Galekovic, Mitchell Langerak, Mat Ryan
Forwards: Tim Cahill, Ben Halloran, Mathew Leckie, Adam Taggart
Midfielders: Oliver Bozanic, Mark Bresciano, James Holland, Mile Jedinak, Massimo Luongo, Matt McKay, Mark Milligan, Tommy Oar, James Triosi, Dario Vidosic
Defenders: James Davidson, Ivan Franjic, Ryan McGowan, Matthew Spiranovic, Alex Wilkinson, Bailey Wright
Expectations: When Australia qualified for the 2014 World Cup the fans knew it was going to be an uphill battle to replicate one of the country's most prominent sporting moments for later generations, when they were ousted by Italy in the last 16 under controversial circumstances in 2006.
As the draw for the group stages took place, it seemed that this hill became a mountain so tall that the top was a mere dream. This team is worth just over $60 million Australian dollars, while Spain's Andre Iniesta alone is worth $74 million. To say that when Australia face Spain anything can happen is holding onto a hope that many say is impossible.
But for Australia daring to dream in sport has been what has got them so far in the first place; from taking on the sport of cricket as a side for England to batter around when they felt like it to being the kings of the Ashes for decades; to outdoing their small population in every Olympic games to the point where an on-par performance brings on investigations and sackings; to making the football World Cup at all, with the changes in FIFA's rules allowing them to go from two-time token stars to what appears to be a regular inclusion.
Australia have shown time and time again that they are capable of outplaying themselves and standing tall against those who think they are deserving of the win simply because the Land Downunder is considered the little guy.
But, such heart certainly won't be enough when the cold hard stats are looked at – and recent results show that while Australia have a new-found spark under Ange Postecoglou the side aren't close to competing with the best.
A 1-1 draw against South Africa in their farewell game and losing to Croatia over the weekend will make for a squad with hardly any winning experience, and the memory of 6-0 losses to both Brazil and France toward the end of last year will still be fresh in their minds.
But stranger things have happened in World Cups; just take a step back to 2010 when New Zealand drew with Italy 1-1 and could have won the game with the penalty for Italy looking quite controversial; and Australian fans will be full of hope that what they will witness against Spain, Chile and Netherlands will be that miracle they experienced when the side defeated Uruguay on penalties to qualify for 2006 in Gemrnay. That was also touted as impossible.
Star man: Tim Cahill – Cahill is still the go-to man in the Socceroos squad and his experience from the last two tournaments will be invaluable for a squad full of up and coming stars. He suffered at the hands of the referee last World Cup, receiving a red card in the first game against Germany as Australia lost 4-0 to the side. But it will have been invaluable experience for the Red Bulls star and when his country have needed him he's always been there to help them play out of their skins.
Prediction: Group stage exit – there can be no other way of putting this - if Australia get a point in their World Cup campaign the fans will go home very happy. To progress through the group of death is not a statistically likely outcome.
© Copyright IBTimes 2023. All rights reserved.