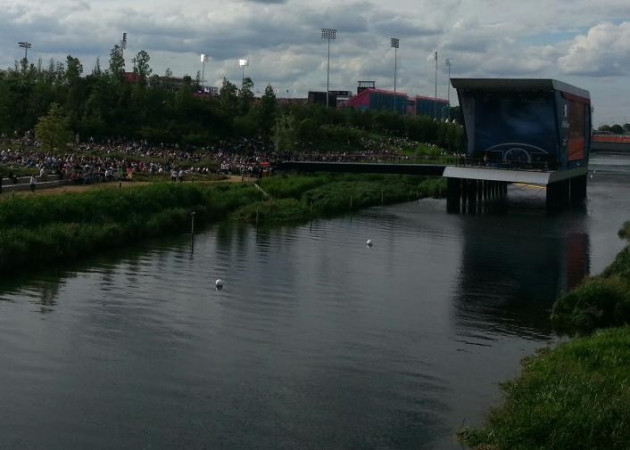 What I love about watching sport is all the emotions it brings out. For me it doesn't matter what sport it is, if Australia is playing, I'll put my heart on the line.
For a sport addict like me, the Olympics are a little bit overwhelming. The TV is constantly on and when I'm not near one, I'm checking results on my phone.
I love yelling at the TV, trying to get my team over the line, believing I can make a difference.
Going to see an event live is a whole different story. Today we had the opportunity to see the women's basketball.
It was my first time in London's Olympic Park and it was fantastic. Hundreds of thousands of people were there going to and from various sports, watching live action at the live site; everyone was thrilled to be there.
The match was Australia vs. France. Australia were the favourites but they had lost to France a few weeks earlier so I knew we were in for a good game.
There were loads of Australians there, but the crowd was on France's side.
The Opals were not dominating as expected, but we chanted and sang to try and lift their spirits. The great thing about watching sport live is that your cheering might actually have an impact.
At the end of the third quarter, it was a one-point game. This was going to come down to the wire.
With 10 seconds to go, the Opals were five points down. You could feel the Australian crowd lose hope, without completely giving up.
France scored a two-pointer. At four seconds to go, Australia called a timeout. Then France. France had a shot and missed. Three seconds to go. Three points to stay in the game.
Australia got the rebound, passed it out wide to Belinda Snell. She ran almost to halfway. No seconds to go. She threw. The ball sailed into the basket.
Euphoria. Disbelief. It was impossible, but it had happened. The Australian supporters went crazy. Jumping, screaming, hugging each other. It was a moment I will never forget.
Unfortunately, the Opals failed to get ahead in overtime and lost to the French.
Devastation followed elation, but I guess that's the game.
Maya is a Samsung Global Blogger for the London Olympic Games