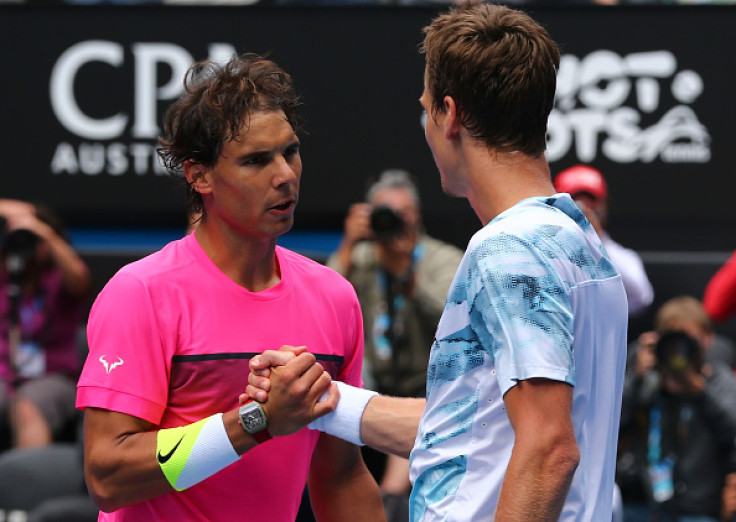 Rafael Nadal has been knocked out of the Australian Open after the World No 3 was defeated by Tomas Berdych in the quarter finals at Rod Laver Arena on Tuesday.
It is for the first time the Czech tennis star has managed to beat the former World No 1 in 18 attempts. The 2009 Australian Open winner had a poor run in the opening set, and Berdych took advantage of it in the second set.
After being two sets down, Nadal came back strong in the third, only to lose it on a tiebreaker as the Czech won the match 6-2, 6-0, 7-6. The 29-year-old claims he was well prepared with a plan for the quarter final clash against the Spaniard and is delighted that he was able to execute it.
"I was definitely ready for it. I set up my plan and stuck with it all the way through for three sets. I started pretty well, but you're playing Rafa – you have to keep playing until the last point," Berdych told the Australian Open's official website.
"You're playing with one of the greatest tennis players ever, so you have to expect he will bring something. I'm ready. I'm feeling strong and prepared, and I want to go all the way."
Berdych will now face the winner of another quarter final clash between Andy Murray and Nick Kyrgios, which is set to start later today. A win for the Scot will see him make it to the last four of this year's Australian Open.
Meanwhile, Maria Sharapova has made it to the semifinal of Women's Singles after defeating Eugenie Bouchard comfortably at Rod Laver Arena. The Russian had no trouble as she won the match in straight sets 6-3, 6-2, which has kept her hopes of winning the Australian Open alive.