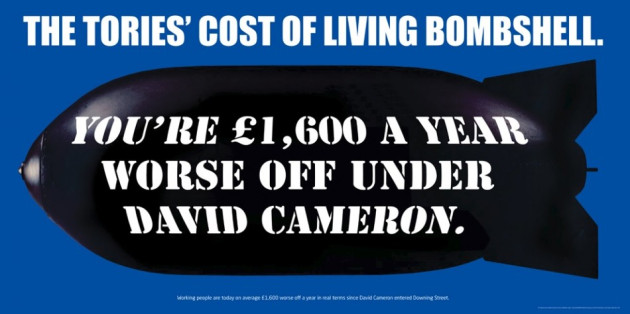 Britain's opposition has unveiled a new 'Cost of Living Bombshell' poster ahead of the UK government's Autumn Statement which is set to reveal new details over economic policy.
In a bid to highlight the rise in the cost of living for households across Britain, which is central to the Labour party's campaign, the opposition says that since the Conservative and Liberal Democrats formed a coalition ordinary Britons have been worse off.
"Prime Minister David Cameron's cost-of-living bombshell has left working people on average £1600 a year worse off since the last election," said Chris Leslie MP, Labour's Shadow Chief Secretary to the Treasury.
"After three damaging years of flat-lining, prices are still rising faster than wages, which is why for millions of people there is still no recovery at all.
"But Cameron and UK Chancellor George Osborne are so out of touch they have chosen to give people earning over £150,000 a huge tax cut."
Osborne is set to unveil his Autumn Statement today.
While the country's battered economy is far from fully recuperated, it is at least recovering.
Public finances are improving and output growth is accelerating, with the rate of GDP expansion going from 0.3% in the first quarter to 0.8% in the third.
Wages are still in real-terms decline, but forecast to start rising again in 2014.
However the UK government has managed to install some vote-winning measures ahead of the Autumn Statement, including capping payday loan interest rates, cutting household energy bills by £50 and securing billions of pounds worth of investment from China for infrastructure, healthcare and trade.
However, Labour's Leslie says that the Autumn Statement is a long-term plan to tackle the cost of living crisis and should "earn our way to higher living standards for all, not just a few at the top.
"We need action to get more homes built, boost apprenticeships and cut business rates for small firms.
"We should make work pay by expanding free childcare for working parents and introduce a compulsory jobs guarantee for young people and the long-term unemployed.
"And we need to freeze gas and electricity bills while we make long-term changes to the energy market to stop customers being ripped off.
"A policy that means bills still rise this winter and lets the energy companies off the hook shows this Government doesn't understand the cost-of-living crisis ordinary working people are facing."