WEST HOLLYWOOD, Calif — Michael Avenatti, the attorney for porn actress Stormy Daniels, said Thursday that he now represents three additional women who he says had relationships with President Donald Trump and were paid "hush money" before the 2016 presidential election.
Avenatti disclosed the information at a community forum in West Hollywood, California, but he would not provide additional information.
Asked if he had evidence that the women had relationships with Trump, Avenatti said: "Yes."
He said he was "not at liberty to share" the evidence because he didn't have permission from his clients to disclose specifics. But Avenatti said the women, who contacted him months ago, were "paid hush money prior to the 2016 election."
He called on Trump and his former longtime personal lawyer, Michael Cohen, to come forward and disclose information about the women and their supposed relationships with Trump.
"They should release the information to the American people now," Avenatti said. "Enough with the games."
Trump's attorney, Charles Harder, did not immediately respond to an email seeking comment late Thursday.
Cohen's lawyer, Lanny Davis, declined to comment Friday but cautioned against believing everything that a lawyer says in the heat of a legal battle.
"Mr. Avenatti is an aggressive attorney doing his job in the middle of litigation," Davis said. "I have been there, done that. An attorney in litigation is just that, and until the litigation is over, I'm not going to comment on the words used."
Daniels, whose real name is Stephanie Clifford, has said she had sex with Trump in 2006, when he was married, but Trump has denied it. Days before the 2016 presidential election, she was paid $130,000 to stay silent in a deal handled by Cohen. She is suing to invalidate the nondisclosure agreement.
Daniels also sued Cohen last month, alleging he colluded with her former lawyer to get her to appear on Fox News and falsely deny a sexual tryst with Trump.
Meanwhile, a secret recording of Donald Trump discussing payments to a Playboy model has brought renewed attention to the question of whether — and how — he might have tried to block politically damaging stories ahead of the 2016 presidential election. But it's not clear that the tape, on its own, creates additional legal problems for the president.
The September 2016 conversation between Trump and his then-lawyer, Michael Cohen, took place weeks after the National Enquirer's parent company reached a $150,000 deal to pay former Playboy model Karen McDougal for her story of a 2006 affair she says she had with Trump. The recording captures Trump and Cohen discussing acquiring the rights to McDougal's story and whether to pay by cash or check.
At issue is whether the payment the men are discussing was campaign-related and intended to influence the election, in which case it would likely be regarded as a contribution, or whether it was merely meant to shield the married Trump from an embarrassing revelation harmful to his personal life. Also important is whether the payment to McDougal from the Enquirer's parent company, American Media Inc., functioned as a backdoor campaign contribution or as a legitimate media company expense.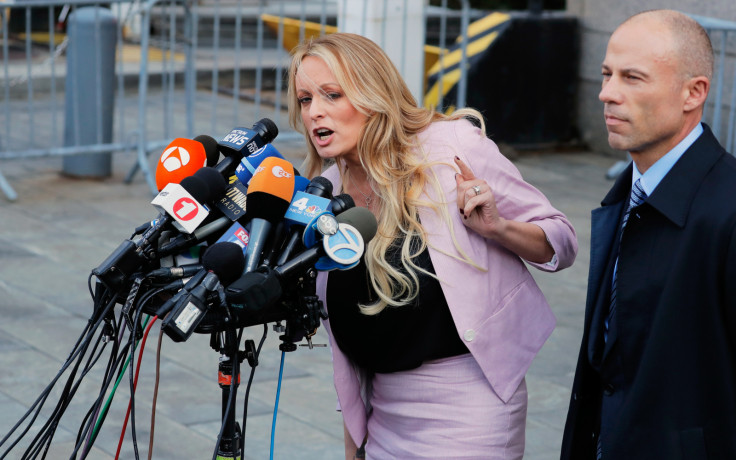 "It's a piece of evidence. It's not a smoking gun," Rick Hasen, a campaign finance law expert at the University of California, Irvine, said of the recording. "It's relevant to the investigation, and it's relevant to considering whether Trump or Cohen or AMI committed campaign finance violations, but on its own, it does not constitute proof of any violation."
He added, "It does not establish either a motive to spend illegal or unreported money in violation of the campaign finance laws, and it doesn't establish that any money was actually paid for this purpose."
Trump lawyer Rudy Giuliani has said the conversation wasn't campaign-related and that Trump and Cohen didn't make a payment to buy the rights.
The Justice Department has been investigating Cohen for months, raiding his home, office and hotel room in search of documents related to McDougal and a separate $130,000 payment the attorney facilitated before the election to Stormy Daniels, an adult-film actress who says she had sex with Trump in 2006.
Cohen, long a loyal counselor to the president, has more recently signaled that he'd be open to cooperating with prosecutors.
His lawyer, Lanny Davis, released the recording to CNN in a reflection of open discord with Trump. Trump's lawyers circulated a transcript of the call that challenged Davis' assessment of it.