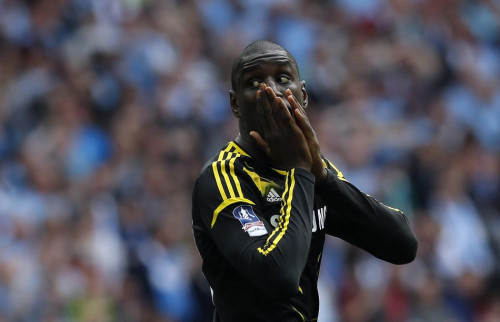 Arsenal boss Arsene Wenger has reportedly instructed club scouts to identify a 'quick-fix' to his problems in attack.
Olivier Giroud, Nicklas Bendtner and Theo Walcott are all out injured – the latter for the remainder of the season – leaving Lukas Poldolski as the sole recognised fit striker available to the Gunners.
With rumours abound regarding a summer move for Diego Costa, Karim Benzema, Jackson Martinez or Loic Remy, Arsenal require a short-term solution to help guide them to their first Premier League title for a decade.
Low cost is what Wenger does best but identifying that sole target is easier said than done, particularly one that can lead an Arsenal side heading for the title.
IBTimes UK looks at the contenders to fill the void for Arsenal.
Demba Ba – Chelsea
The Senegal forward is firmly third choice at Stamford Bridge and is in badly need of a move to reinvigorate his career. The major stumbling block remains Jose Mourinho's view that Arsenal, since the signing of Mesut Ozil and going a point clear the top, are genuine contenders for a title which Chelsea are also in the race for. Allowing a player to join a rival in order to enhance their title credentials would be a rookie error on the part of the Chelsea boss.
Dimitar Berbatov – Fulham
Perhaps the player that makes the most sense. Berbatov is said to be out of favour under new Fulham boss Rene Meulesteen and despite his links with Tottenham Hotspur, is pressing for a move to Arsenal. At a rumoured £2m he is available for a small price and with a good reputation in the Premier League. His ability on the ball suggests he can fit into the Wenger system seamlessly.
Salomon Kalou – Lille
Another who brings Premier League experience to the table but in Kalou Arsenal would surely be filling a round hole with a square peg. Both the Gunners and Liverpool have been mentioned with bring Kalou back to English football two years on from his departure from Chelsea where he was used as a wide man more than a centre forward. His form, even then, was inconsistent
Jeremy Menez – Paris Saint Germain
Side-lined at PSG, Menez has been linked with moves away from the French capital. The 26 year old possesses pace in abundance and good movement on the ball. Once again, a player more adept to playing wide would be forced to lead the attack where his lack of genuine presence might be an issue. Wenger's partiality to signing French players means Menez shouldn't be ruled out.
Alvaro Morata – Real Madrid
Constantly linked with all manner of moves to the Emirates this might be the summer where the Real Madrid upstart finally leaves the Spanish capital, albeit only temporarily. Permanent and loan moves have been suggested, with the latter more likely with Morata highly thought of at Madrid despite making only one league start this term. The infancy of his career makes the move a risk for Arsenal's title ambitions.