Arsenal Begin Talks Over Defender's Future
Arsenal boss Arsene Wenger is hopeful to keeping defender Bacary Sagna at the club as talks begin over the extension of the Frenchman's contract.
Sagna's current deal expires in the summer of 2014, and having made 16 starts this season he continues to play an important role for The Gunners despite two broken legs having restricted his involvement in previous seasons.
Wenger has revealed talks are on-going with Sagna over an extension to his contract and hinted the 30 year old is looking to pen an extension at Arsenal.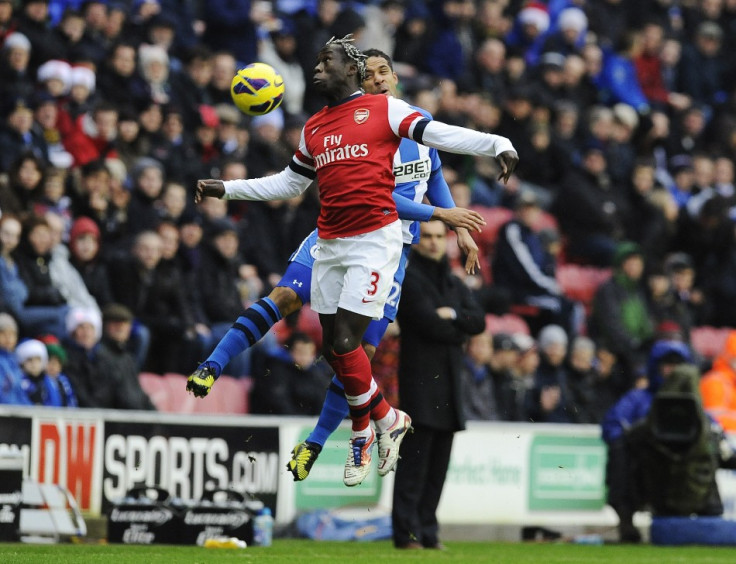 "He is not free in the summer so he can only leave if we let him go," Wenger said.
"Our desire is to keep Bacary Sagna and he knows that. We will sit down with him and we did already sit down with his agent, and we didn't get that [negative] vibe out."
Despite successive defeats to Blackburn Rovers and Bayern Munich, Arsenal are unbeaten in four in the Premier League and will look to keep the pressure on fourth place Tottenham Hotspur in the race for Champions League qualification.
Arsenal face relegation threatened Aston Villa on Saturday, who despite facing the prospect of the drop have jumped out of the bottom three having taken four points from meetings with Everton and West Ham United.
And Wenger is wary of Villa springing a surprise.
"We are on quite a good run so we should not forget that," he said.
"We must take advantage of the fact that we are at home. We know we are in a position where we cannot afford to drop points and we will go into the game with a huge desire to get out the disappointments that we recently had. Especially we must focus on getting points in the Premier League.
"The crowd will play a big part, especially after Tuesday night. It is important that we are all focused on this game but let's have the required attitude to get the crowd behind us.
"We are in the final part of the season and for us it is important not to drop points anymore and then the crowd will be behind us.
"It is always a battle against Villa. They have recently had some good results. They had a 3-3 draw at Everton, so we know what we want."
© Copyright IBTimes 2023. All rights reserved.