Justin Bieber and Selena Gomez are hanging out again, and fans are going wild.
It has been reported that the pop sensations, previously known as Jelena for their three-year on and off romance, spent time together at Gomez's Los Angeles pad, but it's apparently not the first time they have hung out in recent times.
According to E! news, a source revealed that the former high-profile couple have met up "a few times" since Gomez, 25, underwent a kidney transplant earlier this summer.
But hold your horses! Isn't Gomez loved up with The Weeknd – who she has been dating for nearly two years? Yup, and she and Bieber are allegedly "just friends", so let's all take a deep breath and calm down.
The insider has added that "nothing is going on" between the pair, adding: "They both have a long history with each other so they will always have a place in their heart for one another."
So what does The Weeknd – real name Abel Tesfaye, 27 – make of their newly rekindled friendship?
The source claims that the Often hitmaker was "well aware that Justin and Selena were hanging out with a few friends. He trusts her... Once The Weeknd gets back from touring you will likely see them all out."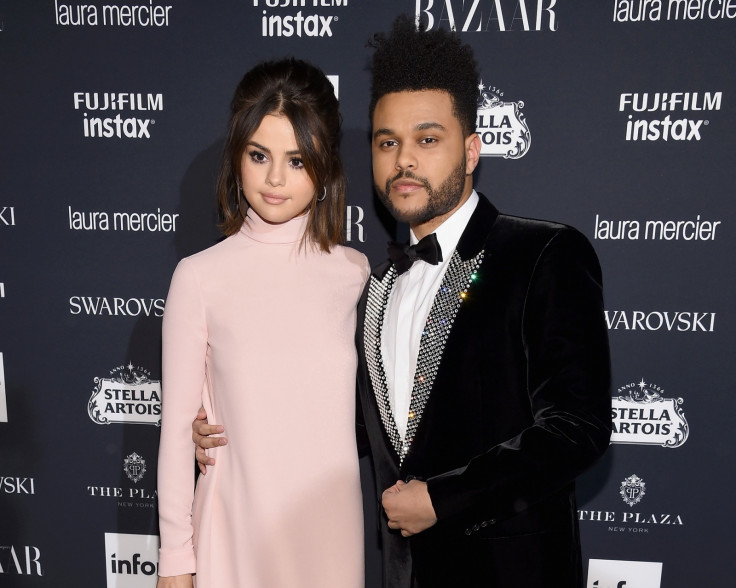 Despite a tumultuous past in the spotlight including egging his Calabasas neighbour's home and being arrested for dangerous driving, Bieber has done a lot of growing up and only wants the best for Gomez and her boyfriend.
The source added: "Justin is happy that Selena found a good guy that treats her well. He has nothing bad to say about The Weeknd.
"Justin is always checking on Selena to make sure she is feeling good. Justin has grown up on many levels. It's nice they are friends and there for each other now," they continued.
Paparazzi pictures were taken of Bieber arriving at Gomez's LA home on Monday 23 October, with the Baby hitmaker's car seen driving into her driveway minutes after she was seen heading inside her house with security.
Though things seem to be at peace between the pair now, their "friendship" took a disastrous turn when Gomez got in the middle of Bieber's since-ended relationship with Sofia Richie last year, causing him to delete his Instagram account.
There were also reports of an emerging feud between Bieber and The Weeknd after the former was asked by paparazzi if he would listen to Gomez's new boyfriend's music. He allegedly responded with a simple "Hell, no."
The next Valentine's Day The Weekend featured on a track called Some Way by Toronto rapper Nav where he sang: "I think your girl / think your girl / fell in love with me." Yikes.