Two years after the start of a pro-democracy uprising, the tiny Gulf state of Bahrain has woken up to the death of a 16-year-old boy, shot dead allegedly at close range by police forces.
Hussain al-Jaziri was killed by shotgun fire during a protest in Al-Daih, a village west of the capital Manama. More than 80 people have been killed during the two years of unrest, which started with the peaceful takeover of an iconic Bahraini monument, Pearl Roundabout, on 14 February 2011.
After a month, a coalition of soldiers from Saudi Arabia and other Gulf countries, entered Bahrain and cracked down on protesters. Home to the US Navy's Fifth Fleet, Bahrain has a Sunni monarch, relying on a largely Sunni power base, which rules over a majority Shia population. Critics accuse the United States and Britain of ignoring human rights abuse in the Gulf state.
Over the years, Shias have faced discrimination and have been disfranchised and left on margin of the country's political life, say human rights campaigners. The government has mainly depicted the protests as Shia-led and based on sectarian demands.
Opposition main party al-Wefaq is in talks with government officials to solve the crisis. Al-Wefaq leader and resigned MP Ali Alaswad told IBTimes UK that the first round of talks with the government has been "encouraging" although requests for the country's democratic transition still have to be addressed. "We need to have a Government that is elected and represents the will of the people," he said. "Fair elections are one aspect, but elections alone are not the answer."
After two years of relentless protests, the government "have no choices but to address the people's demands," according to Alaswad.
"Bahrain has changed into a police state"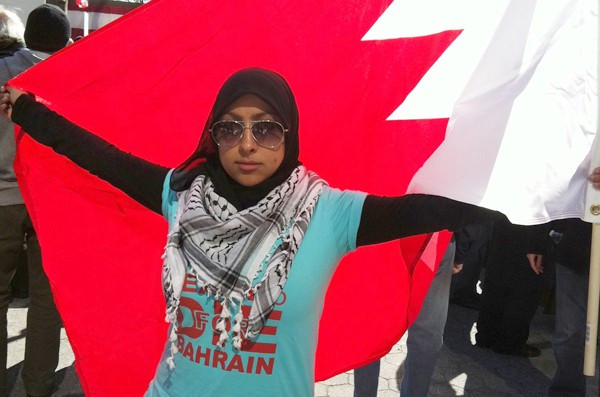 But human rights activists are less optimistic over the outcome of the National Dialogue, as the nation-wide effort to bring stability in the country has been called.
"Bahrain has changed into a police state, there's riot police and armoured vehicles everywhere," Maryam Al-Khawaja, acting president of the Bahrain Centre for Human Rights, told IBTimes UK.
The daughter of Abdulhadi Al-Khawaja, who has been jailed for his role in the protests and started a hunger strike last week to protest against denied communications, Maryam went back to Bahrain earlier this year.
Thanks to her dual Bahrain-Danish citizenship, the 25-year-old activist can continue to campaign outside the country. She returned to her homeland at great personal risk to coordinate work on the ground, meet with her family, which she has not seen for a while and document cases of human rights violations. The picture has changed since she left the country, two years ago. "There's a feeling of no law in Bahrain," she said. "If you are stopped at the check point, your identity is based on which sect or class you belong."
"It's a clear-cut case of oppressive regime, who tries everything they can to turn legitimate protests into a sectarian situation but it's not. It's a government refusing to give people rights and freedom."
"We have continued to see arrests being made in terrifying night-time house raids, tear gas has been used against peaceful protesters and all of the violations of the past 2 years have not yet been undone," said Alaswad. On 6 February the village of Ma'amer came under a sustained attack from the security forces, with children being arrested and homes being raided.
On the same night similar scenes took place in Malkiya Village. There is also the case of 17-year-old prisoner Ahmed Madhoon, whose family say he is being denied medical treatment for his epilepsy. "In short, clearly violations and abuses are still happening and this harms the credibility of dialogue," admits Alaswad, echoing the words of Al-Khawaja who says that human rights values "are not negotiable".