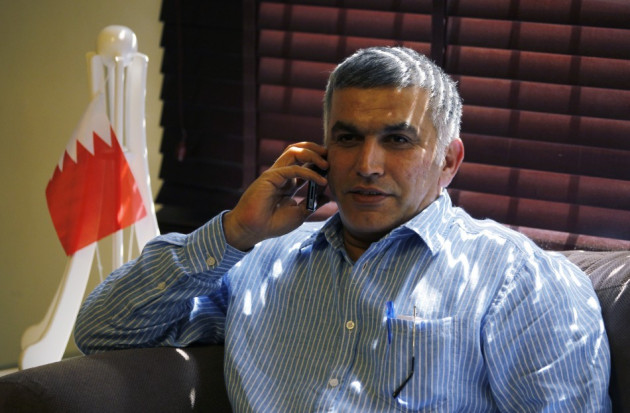 Prominent Bahraini human rights activist Nabeel Rajab has gone missing from his prison cell and moved to an unknown location, according to the Bahrain Centre for Human Rights (BCHR).
Rajab, who has served 11 months of a two-year sentence for "encouraging illegal gatherings" during the 2011 uprising in the tiny Gulf island, called his wife on 14 May and told her that "he had witnessed the torture of young political prisoners at the hands of prison guards at Jaw prison".
"He raised his voice telling them to stop, and when they realised that he had witnessed what was happening, they quickly left," BCHR said in a statement.
"Nabeel Rajab asked his wife to request that the International Committee of the Red Cross (ICRC) visit him in prison so he can give them his testimony of what he had witnessed. Rajab's wife received a phone call that evening informing her that Nabeel was reportedly removed from his cell that night by prison guards and was not returned."
The 48-year-old has been at the forefront of the pro-democracy protests in the Gulf Kingdom and has more than 200,000 followers on Twitter.
Prison officials repeatedly refused him medical treatment for a back injury, according to his wife Sumaya Rajab.
Said Yousif Almuhafda, head of BCHR's monitoring section, wrote on Twitter:
Family of @nabeelrajab went to Jaw Prison to meet with him but the prison admin refused, concerns after his disappear from his cell #Bahrain

— S.YousifAlmuhafda (@SAIDYOUSIF) May 15, 2013
Instead of investigating torture of convicted prisoners in jaw prison, prison admin revenge from Nabeel and transfer him to unknown place — S.YousifAlmuhafda (@SAIDYOUSIF) May 15, 2013
Meanwhile, another six people have been sentenced to a year in prison for "insulting the King" Hamad on Twitter. They were charged with "misusing the right of free expression" and of "undermining the values and traditions of Bahrain's society towards the king on Twitter."
Washington-based Human Rights First advocacy group called for an immediate investigation into these allegations. "UN Special Rapporteur on Torture Juan Mendez should have been in Bahrain this week, but was denied entry by the government. Reports of torture keep coming and the authorities need to respond with transparent investigations and not evade scrutiny," noted Brian J. Dooley, director of Human Rights First. "Accounts of torture in custody and increased targeting of peaceful expression demonstrate this is a government intent on repression, not reform,"