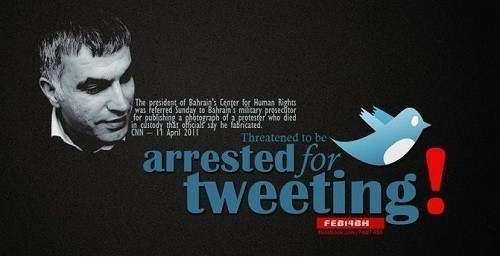 Bahrain will introduce tough laws to curb the "irresponsible use" of social media, the minister of information said.
Information minister Samira Rajab said the laws were necessary to protect national security, Gulf Daily reported.
Rajab blamed the mass demonstrations and unrest in Bahrain in 2011 on abuse of social media.
"The unrest was fuelled by the irresponsible use of such media and everything was blown out of proportion to suit some people's agenda," she told the Arabian Gulf security conference.
Rajab said Bahrain was entitled to introduce new laws on social media. "How can Bahrain not do this? We have a right to punish those who indulge in seditious behaviour and create disunity among the people.
"We have to think of how to protect our national security. We have these new threats and we have to see how we can tackle those threats."
Rajab accused activists of using social media to level unfounded accusation of torture against the state.
Activist Nabeel Rajab still held
"It is these activists who have labelled drowning victims as those killed by torture," she said.
"They have labelled sickle cell victims as being killed by security forces and they have used these media to completely distort the true picture of Bahrain.
"This cannot be tolerated. The rule of law shall prevail."
The social media crackdown comes after prominent human rights activist Nabeel Rajab was arrested on 6 June. He was detained after several people from the al-Muharraq area, north of Bahrain, reportedly accused him of "publicly vilifying the al-Muharraq people and questioning their patriotism with disgraceful expressions posted via social networking websites".
In a tweet addressed to the prime minister, Sheikh Khalifa Bin Salman al-Khalifa, Nabeel Rajab posted: "Khalifa: Leave the al-Muharraq alleyways, their sheikhs and their elderly, everyone knows that you have no popularity there; and if it was not for their need for money they would not have come out to welcome you. When will you bow out?"
Rajab faces a sentence of two years in jail or a fine of up to BD200 (US$530), Amnesty international said.
The rights watchdog has called for Rajab's release and described him as a prisoner of conscience.
Mariyam al-Khawaja, whose father, rights activist Abdulhadi al-Khawaja, is in jail for plotting to overthrow the state following pro-democracy protests, told IBTimes UK: "Nabeel Rajab is still being held at the al-Hoora detention centre. A hearing date was set for June 13 but later on cancelled. Authorities have yet to reschedule the hearing."