Bahrain: Jailed Hunger Strikers Abdulhadi and Zainab al-Khawaja Resume Drinking Water
Pro-democracy activists continue hunger strike in protest at family visit denial but resume taking fluids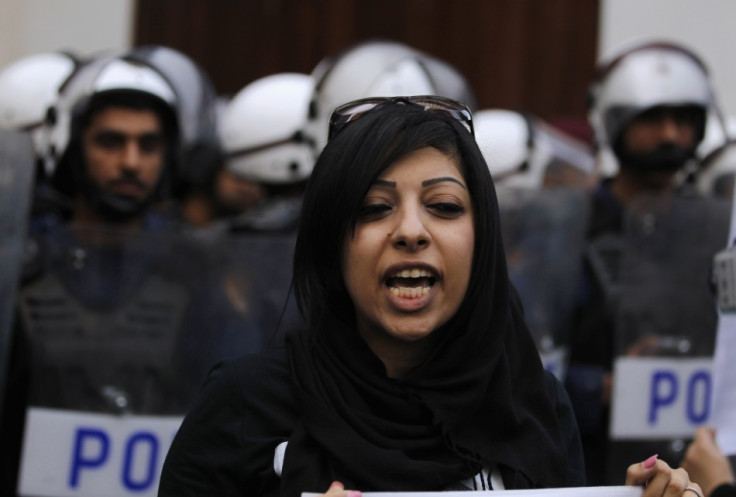 Bahraini hunger strikers Zainab al-Khawaja and her father Abdulhadi have resumed drinking water but will continue their hunger strike in protest against their unlawful detention by the Bahraini regime, according to reports.
Abdulhadi, co-founder of the Bahrain Centre for Human Rights (BCHR) and in prison since April 2011, has been taken to hospital after his condition deteriorated, his daughter and acting president of BCHR Maryam al-Khawaja told IBTimes UK. Zainab, a 29-year-old mother of a three-year-old girl, was "coughing up blood from her throat and nose".
A doctor said that she was at high risk of organ failure, cardiac arrest or coma.
"Having initiated a dry hunger strike, including no intake of glucose, we have put her at high risk of sudden onset arrhythmia, loss of consciousness and possibly death especially as she is in a detention centre where no cardiac monitor or cardiac resuscitation service is available," Dr Fatima Haji, one of 20 Bahraini doctors who had been arrested and tortured for treating protesters, told the BCHR.
Freedom House, a human rights group, said it was "deeply concerned" for the health and wellbeing of the pair and reiterated calls for their release.
Zainab and Abdulhadi were scheduled for a family meeting on 17 March but were denied the visit and started the hunger strike in protest. She refused to follow prison authority orders to wear the orange prisoners' outfit, maintaining that she was a political prisoner, not a criminal.
"I knew I couldn't put them on without having to swallow a little bit of my dignity," she wrote in an open letter from prison in which she calls the US to reconsider its support for the Bahrain's authoritarian regime.
"What would [Martin Luther King] have to say about US support of Bahraini dictators?" she asked. "What would he say about turning a blind eye to the blood and tears being spilt in the quest for freedom?
"Part of the reason that progress toward democracy is so slow in Bahrain is, ironically, that democratic nations support the dictators here," she argued.
"Whether it's by selling them arms, or giving economic and political support, the United States and other Western governments have proven to the people of Bahrain that they stand with the al-Khalifa monarchy and against the democratic movement."
Zainab was sentenced to three months in prison for "insulting and humiliating a public employee".
She had previously served sentences of one and two months on separate charges. Her father was among eight activists sentenced to life in prison for their opposition to the Khalifa regime.
© Copyright IBTimes 2023. All rights reserved.