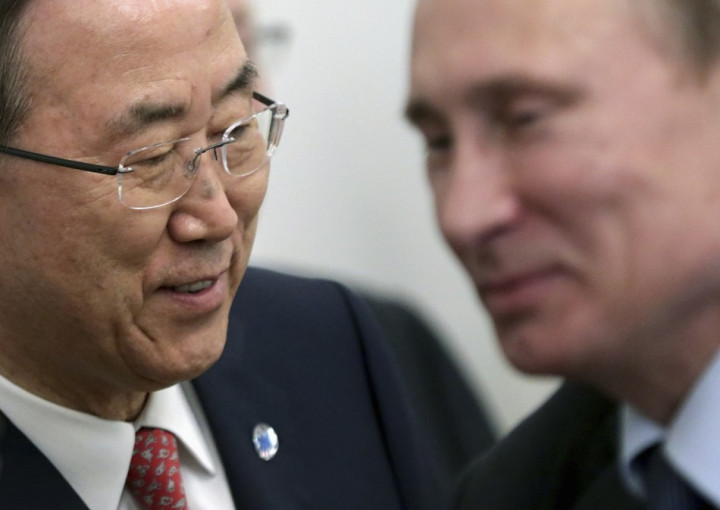 UN Secretary-General Ban Ki-moon has called on Russia to help bring North Korea back to the negotiating table after Pyongyang test-fired four short-range missiles over the weekend.
Speaking in Moscow after talks with President Vladimir Putin, Ban called the missile tests "a provocative action".
He urged Pyongyang to "resume dialogue" over its nuclear programme, engage with its neighbours in trying to break the diplomatic stalemate, and abandon its testing policy.
"I hope that North Korea will refrain from such actions," Ban told Russia's RIA Novosti news agency. "We are very worried over North Korea's provocative action. It is time for them to resume dialogue and lower the tensions. The United Nations is willing to help."
The North launched three short-range missiles into the Sea of Japan on Saturday, and a further missile on Sunday, South Korea's defence ministry said.
Ban called on Russia - a member of the stalled six-party talks on North Korea's nuclear programme - to help bring Pyongyang back to the negotiating table.
Tensions have run high in the Korean peninsular this year, with incoming leader Kim Jong-un cementing his accession with bellicose threats that rattled leaders in the west.
Pyongyang threatened military strikes on targets in South Korea, Japan and the US following the imposition of new UN sanctions in response to its third nuclear test, as the US conducted military exercises with the South.
Pyongyang cut military and economic links with Seoul, and threatened to restart a nuclear reactor producing plutonium for its weapons programme. It shut down an inter-Korean industrial complex in Kaesong in early April and pulled out 53,000 of its workers.
South Korea responded in April by withdrawing its own workers after Pyongyang rejected Seoul's proposal for working-level talks.
Intermediate-range missiles were deployed along the east coast in April but removed earlier this month in a move seen as a sign of tensions lowering.