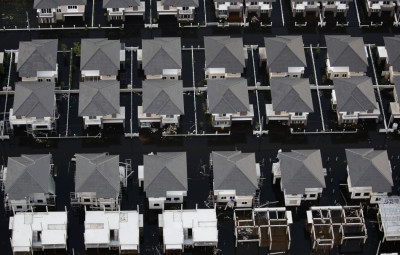 The flood crisis continues to engulf Thailand's capital, Bangkok, Wednesday as residents stockpile food.
Prime Minister Yingluck Shinawatra warned that some areas have registered as much as five feet of flooding.
The prime minister also announced a five-day holiday that would shut down much of the city's businesses in a bid to help its 9 million residents cope with the floods.
Schools are also expected to be closed until Nov. 7.
After three months of heavy rain and flooding in Thailand, the death toll has risen to 366, with as many as 113,000 people reportedly living in shelters, while 720,000 were forced to seek medical attention as a consequence of the flooding.
Floods have been reported in 26 central and northeastern provinces, affecting at least 2.4 million people.
Water flooded the domestic airport Don Muang, forcing it to shut, but officials insisted the government's flood relief command, based there, was safe and would remain in place.
The international airport Suvarnabhumi continued to function normally, being located on higher ground.
Authorities have been fighting hard to counter the flooding but more efforts are still needed and Shinawatra has warned the water being flushed through the city to the Gulf of Thailand could make a return as a high tide is expected on Thursday, threatening to raise river levels to as high as 2.6 meters above sea level in some areas.
While most of the damage is reported in seven of Bangkok's northern districts, Sukhumbhand Paribatra, the city's governor, warned that another 13 district along the Chao Phraya River are now also at risk, a comment backed by the premier.
"Those areas along Chao Praya River and floodwalls along the banks will be at the highest risk," said Shinawatra.
Residents have been advised to pack their belongings and be prepared to evacuate.
Shinawatra also said the government would protect the royal palace, power stations and other vital locations but warned that in the worst-case scenario, floodwater might remain in the capital for two weeks or a month.
This year the region has been hit by the worst floods in decades and hit countries such as Thailand, Cambodia, Laos, Vietnam and the Philippines, killing almost 800 people and affecting more than 8 million, according to the United Nations Office for the Coordination of Humanitarian Affairs.