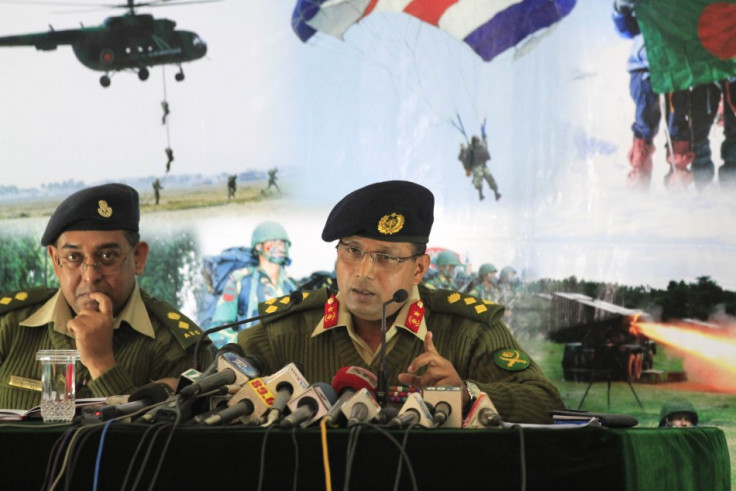 The Bangladesh army said it had foiled a coup plot by military officers living abroad to overthrow Prime Minister Sheikh Hasina Wajed.
Brigadier General Muhammad Masud Razzaq said in a statement that the military had gathered evidence which showed that 16 current and former Bangladeshi military officers "with extreme religious views" were involved in the "heinous conspiracy".
The plot was masterminded by conspirators who lived outside Pakistan, he added.
The official also said two retired officers, Lieutenant Colonel Ehsan Yusuf and Major Zakir, had been arrested in connection with the coup attempt, while another officer who is still serving in the army, Major Ziaul Haq, is a fugitive on the run.
Bangladesh has a history of military coups. There have been three major army coups and two dozen smaller rebellions since the country achieved its independence from Pakistan in 1971.
Prime Minister Hasina took over from a military-backed caretaker government in 2009.
Just two months after Hasina assumed power following his victory in a general election, the country's border guards staged a two-day mutiny in the capital city of Dhaka.
Officers complained about their pay, perks and promotion prospects. The mutiny rapidly spread outside the capital.
The uprising led to the death of more than 70 people, most of them officers.
Military officials were reported to be angry at the prime minister for not ordering an assault on the compound where the mutiny took place to halt the violence.
While mutineers were originally granted amnesty, the government later backtracked on its pledge and up to 800 soldiers were placed on trial earlier this month.
It remains unclear why the plotters have been described as religious fanatics.
Hasina banned Islamic militant groups after he took office. He has also hinted in recent speeches that such radical groups were plotting to conspire against the government.