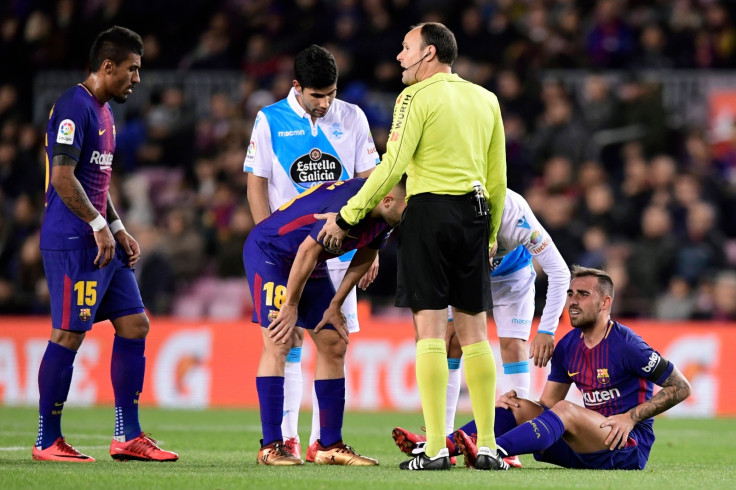 Ernesto Valverde has admitted that Paco Alcacer's injury is a setback ahead of the upcoming El Clasico at Real Madrid on Saturday (23 December) after scans confirmed that the Barcelona striker will be on the sidelines for around three weeks.
Alcacer formed Barcelona's attack alongside Lionel Messi and Luis Suarez on Sunday (17 December) as the La Liga leaders secured a comfortable 4-0 win Deportivo La Coruna thanks to braces from the Uruguay international and Paulinho.
However, the former Valencia striker had to be replaced by Aleix Vidal in the 23rd minute of the game after suffering a muscle injury in his left leg.
Scans later confirmed that the Barcelona forwardwill miss the upcoming trip to Real after being ruled out for three weeks.
"It's a setback for our plans. We have lost another player for El Clasico but we hope those 10 days during Christmas break will allow him to recover," Valverde admitted in the press conference.
The Barca boss could be without four other first-team players at the Santiago Bernabeu in the form of Gerard Deulofeu, Ousmane Dembele, Rafinha Alcantara and Samuel Umtiti.
Deulofeu suffered a knee injury in preparation for the game with Deportivo while on Saturday [16 December] the Barcelona coach suggested that the visit to Real will also come too soon for the French summer signing.
"We need [to recover] players to face the month of January. We also can promote someone from the second team. The other day we also lost Deulofeu due to a knee injury but let's see how the week [ahead of El Clasico] goes," the Barcelona boss added.
The Catalan's victory over Deportivo means that the leaders are 11 points clear of Real ahead of the first El Clasico of the La Liga season, with Los Blancos having one game in hand following their weekend victory over Gremio in the final of the Fifa Club World Cup.
But Valverde believes that the clash with their arch enemies won't be decisive in the race for the title after pointing out that Atletico Madrid are only six points behind.
"Today's game [against Deportivo] was an important one; the victory has a double boost as it gives us confidence ahead of a game like the Clásico. It's always good to come into it strengthened," the Barcelona boss said.
"I don't think a victory in El Clasico will be definitive. People mention the advantage we have over Real Madrid but they forget that Atletico are only six points behind us. Regardless what happen on Saturday there will be a long way to the end of La Liga."