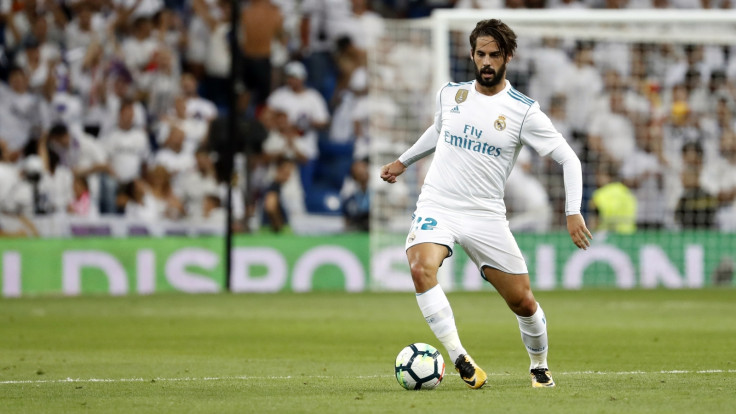 Barcelona president Josep Maria Bartomeu has been coy over whether the club tried to sign Isco from Real Madrid before the Spanish international decided to sign a new long-term deal at the Santiago Bernabeu.
Isco's future at the Champions League winners came under some scrutiny during last season with his previous contract being set to expire in the summer of 2018.
It was said Barcelona tried to take advantage of the situation by offering Isco a stunning signing bonus to turn down a new deal at Real Madrid and move to the Nou Camp as a free agent ahead of the 2018-2019 campaign.
Earlier this week the 25-year-old midfielder confirmed the approach during a press conference held to announce his new contract with Los Blancos until 2022.
"It is true that maybe there was some contact but I was clear. I never heard anything," Isco said when asked whether Barcelona tried to lure him away from Real Madrid. "My intention was to succeed here, in the team that put their trust in me when I was at Malaga. The target now is to continue improving, consolidating as a starter and winning many more titles."
However, asked during an interview with TVE whether the Real Madrid star's claimed is genuine, Bartomeu said: "Well, the important thing is that [technical secretary] Robert Fernandez and his team have to be always looking at the market. I guess they do their job and contact many players. It's their job."
When questioned who between Isco, Marco Asensio and Sergio Ramos would rather to sign from Real, Bartomeu added: "It's a very difficult question but I would stick to our own players. I would not sign any of them."
Furthermore, the Barcelona president remains optimistic that both Andres Iniesta and Lionel Messi will put pen to paper on new deals at the club in the near future.
Earlier this month Bartomeu said that the Catalans had reached an agreement in principle for the 33-year-old Iniesta to extend his deal, only for the player to deny it a day later. The club captain last week said that he is yet to make a decision over his long-term future at the Nou Camp despite his contract being set to expire at the of the current season.
Questioned whether there have been any development, Bartomeu added: "Andres is playing well, he is happy and when a player is happy is closer to say yes [to a new deal]. I hopes Andres will continue with us. He is a reference for all and also for the young people. He is one-club men. I want him to sign a new deal. He deserves to decide how long he wants to stay."
Meanwhile, Bartomeu reiterated that Messi's father has already signed his new deal on behalf of his son back weeks ago and the club are waiting for the right time for the player to sign the paperwork.
"The contract's been signed by his father, by his foundation... but it's lacking one signature and the photograph, but we will do that," Bartomeu said. "You can see his commitment on the pitch. We speak with him. Messi will be at Barcelona for as long as he wants. He's the best player in the world; the best player in history. The contract's already been audited."