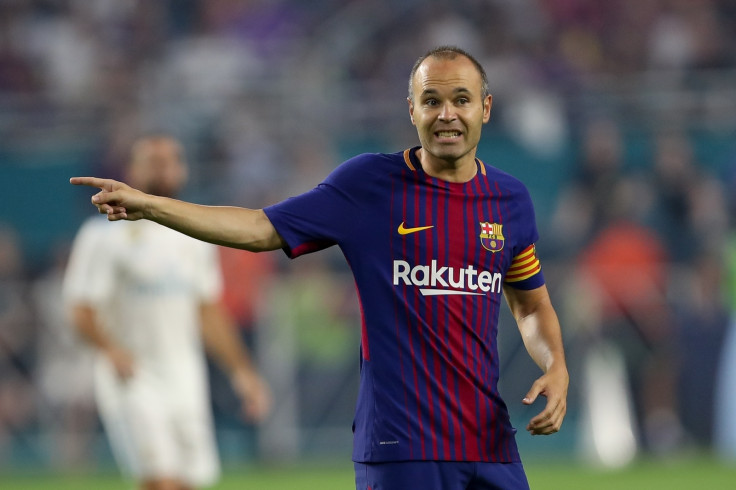 Growing uncertainty over the future of Andres Iniesta at Barcelona is causing unrest among the playing squad, according to reports in Spain.
Iniesta has been at the club since joining from Albacete as a 12-year-old in 1996, going onto win every major club honour during a remarkable career at the Nou Camp. But now in his 15th season at the club, the Spain international is for the first time considering looking elsewhere for a new challenge having entered the final year of his current contract.
President Josep Maria Bartomeu has attempted to play down concern over the captain's future. In a recent interview with Mundo Deportivo he insisted the club and Iniesta were very close to an agreement over a new deal, adding a formal announcement would be made in the following weeks. Later that day, however, the midfielder refused to confirm those claims.
Speaking after Saturday's 5-0 victory over Espanyol, Iniesta explained his intention was not to undermine the club president, but reiterated he is still to make a decision over his future.
According to SPORT, the Barcelona dressing room is concerned by the uncertainty Bartomeu's comments have created and does not understand why he continues to insist an agreement is in place when Iniesta himself says that is not the case.
The report adds the Barcelona squad are annoyed with how the situation is developing and feel their club captain is deserving of better treatment.
Bartomeu has faced calls to resign after what proved to be a mediocre summer for the club, marked by Neymar's £198m move to Paris Saint-Germain. Following that record deal, doubts have also emerged over Lionel Messi's future at the club, with the five-time Ballon d'Or winner also in the final year of his contract.
Barcelona insist however a formal announcement over Messi's new deal will be made imminently while also continuing to push the line that Iniesta's future has been resolved.
"Messi has a four-year contract. He's the best ever and played for us since he was small and we enjoy watching him play because he's unique," Bartomeu said, as quoted by Mundo Deportivo following the Champions League victory over Juventus.
"The club members can be calm. We've already said Messi's renewal is signed and that he'll be at Barca for as long as he wants, the same with Iniesta.
"[Iniesta] has extraordinary quality. He was here when Ronaldinho was and now he's with Messi. He's crucial for us, he had a great game [against Juventus]."