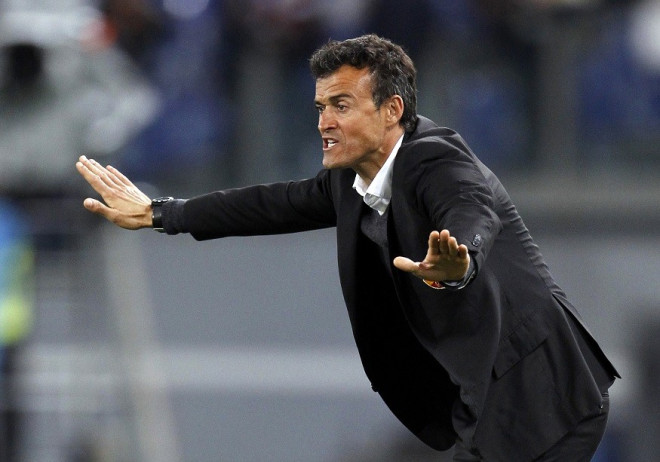 New Barcelona manager Luis Enrique has refused to confirm whether Cesc Fabegras and Javier Mascherano will remain at the Camp Nou next season after reports claimed that the pair could return to the Premier League with Liverpool and Manchester United linked with moves.
The Catalan club are planning a huge clear-out to re-establish their dominance both in Spain and in Europe following a disappointing campaign that ended without silverware.
Having already confirmed the arrival of goalkeeper Marc Andre Ter Stegen and the returns of Rafinha and Gerard Deulofeu after spells away on loan, Barcelona are also expected to offload a number of stars.
The club have already parted ways with goalkeeper Pinto while recent reports claim that Fabregas could be the next to depart from the Camp Nou, with new Manchester United manager Louis van Gaal understood to be keen on bringing the Spaniard to Old Trafford.
When asked by the reporters about Fabregas' future during his unveiling as the new Barcelona coach, Enrique said: "We shouldn't make any decisions, there's time for everything."
Meanwhile, Mascherano himself recently suggested a summer exit was possible with Liverpool reportedly considering his return to Merseyside.
"It's great what we've got coming up this week and over the weekend. For some of us, it may be our last game at the club, so it will be a very nice way to say goodbye," Mascherano said.
When the subject of the Argentine's comments arose, Enrique said: "This is a bit like Xavi. They're very important footballers, not just on the field. You see how he manages himself, like a captain. There'll be time to make decisions."
At the same time the new manager suggested that Xavi may leave the Nou Camp this season, following in the footsteps of other legends like Victor Valdes and Carles Puyol.
"He's a friend and former team-mate. I could say great things about him. The time will come to sit down and talk and assess what we all want. We'll wait before deciding things."
Nevertheless, Enrique was firm when reporters asked him about Lionel Messi, who recently claimed that he would consider a summer exit should the club decide they will listen to offers.
"I'm delighted to have the best player in the world in my squad. And the club must feel the same, because they've renewed his contract. His performance this season hasn't been as incredible as other seasons, but it's still impressive. I hope under me he can find his best form. He's indispensable, a unique player, like the rest of the stars of the team."