Neymar's move from Santos to Barcelona could rise to a world record fee of €158m (£116m, $173m) after Spanish prosecutors found a number of irregularities in the contract, reports in Spain claim.
Gareth Bale's move to Real Madrid is currently the world highest transfer fee after the Spanish giants paid around £89m to Tottenham to secure his services in the summer of 2013, beating the £80m they spent to lure Cristiano Ronaldo from Manchester United in 2009.
But Spanish newspaper Marca claims Neymar's move to Barcelona could become the most expensive in the history of the game due to alleged tax fraud by the Catalans.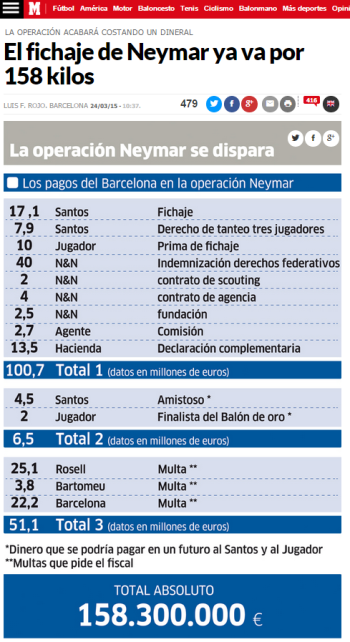 Barcelona signed Neymar in summer 2013 from Santos after beating both Real Madrid and Chelsea for his services. The club initially said they paid €57.1m to sign him before, a year later, admitting the real price of the deal was €87m – forcing former club president Sandro Rosell to resign.
Spanish prosecutors have since been investigating the case and, according to Marca, the deal may eventually top €158m.
Reports in 2014 alleged Barcelona paid Santos €17m while the other €40m was paid to a company owned by Neymar and his father – with doubts as to whether that €40m was a hidden payment to increase the player's salary in order to avoid tax obligations.
Spain's tax authorities forced Barcelona to pay €13.5m extra to the €87m initially paid, increasing the fee to €100.5m plus an extra €6.5m due to uncovered contracts with Santos.
And the operation could still rise to €158m after anti-corruption prosecutors demanded an extra fine of €51.1m for tax fraud allegedly committed during the signing.
The anti-prosecutors demand a €22.1m fine to Barcelona as a club, €25.1 to former president Sandro Rosell and €3.8 to current club president Josep Maria Bartomeu.
Furthermore, Bartomeu and Rosell could face a prison sentence of more than two years and over seven years respectively. Nevertheless, the club have made an official statement to reiterate their total innocence.