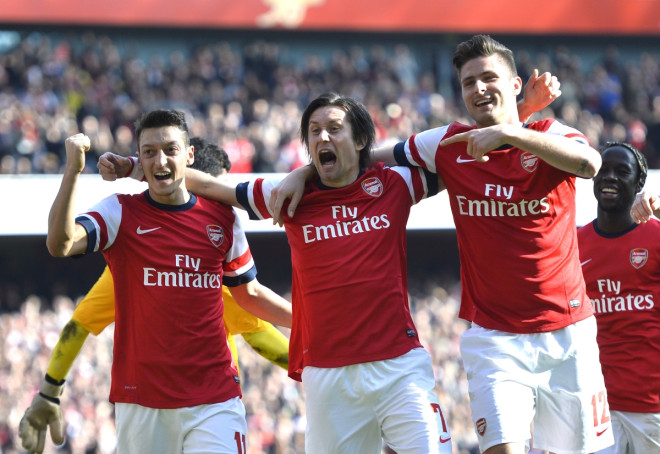 Barcelona are preparing a £30m bid for Arsenal midfielder Mesut Ozil, according to talkSPORT.
Spanish football expert Paul Breen-Turner reveals that there are reports in Spain citing that the Catalans are preparing a move for the midfielder who they have been pursuing since 2011.
The German made his way to the Premier League last season with Arsenal, with the Gunners completing a record £42.5m deal with Real Madrid for the player.
Ozil has failed to live up to expectations this season in spite of the Gunners being top of the league for major parts since his arrival but manager Arsene Wenger is confident of his pedigree and expects the player to come good in his second season.
Barcelona have had their transfer ban suspended pending an appeal and the Catalans are lookling to replenish their squad after being knocked out of the Champions League for the second year in seccession in the initial stages.
"There are reports from Spain that Barcelona will make a move for Arsenal's Mesut Ozil," Turner told talkSPORT.
"He was close to joining them in 2011. Ozil is a very serious target for Barcelona and they will make a move.
"They're talking about a figure of £30million, although I can't quite believe Arsenal would even consider," he added.
Arsenal were without Aaron Ramsey and Theo Walcott for the major part of this season which has adversely affected Ozil's ability to thread the through ball. However, with Wenger expected to stay and currently leading the race to make the top four, the Gunners are set to invest a lot in the market next season and bring in a few runners and a proper centre-forward, which should complement Ozil's style of play.
The Gunners are currently fourth in the league and need to win their last three games to confirm their participation in the Champions League next season. Everton are close on their heels, one point behind the Gunners and are ready to take the opportunity if one presents itself in the days to come.