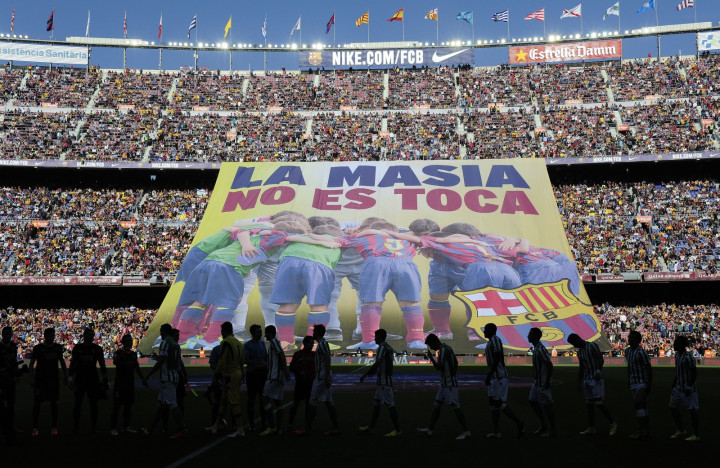 Barcelona have reacted furiously to Fifa's decision to reject the club's appeal against a transfer ban and have vowed to take their case to the Court of Arbitration for Sport (CAS).
After a lengthy appeal process that has spanned the summer, world football's governing body has handed down a sanction that prevents the La Liga giants from signing any players until January 2016 once the current transfer window closes.
In a strongly-worded statement, Barcelona have condemned the decision as "an affront to the spirit of our Masia", the club's revered youth academy at the centre of the dispute.
"Following the resolution announced today by the Fifa Appeals Committee on violations of regulations regarding the transfer and registration of children aged under 18 years, FC Barcelona announces that it shall continue defending its interests before the highest sporting authority, in this case the Court of Arbitration for Sport."
It continued: "FC Barcelona may not in any way share a resolution that is an affront to the spirit of our Masia, a world renowned example of academic, human and sporting education."
Javier Mascherano, who recently signed a new four year contract at the club, was swiftly quizzed on the decision during a press conference on Wednesday. "The club has looked after those kids well at La Masia," the Argentine said. "They get the best quality of life possible."
Barcelona were handed a 14-month ban in early April after being judged to have breached rules relating to the signing of players under the age of 18.
Rules dictate players under that age are only permitted to move to a club in a different country if their parents are there for non-footballing reasons, they are from another nation within the European Union or if they live within 100km of the club.
Reports earlier this summer suggested Korean starlet Lee Seung Woo was one of the players involved in contravening the regulations.
During the appeal process the Catalan giants were allowed to strengthen their squad after a trophy-less campaign last term. A summer of spending that exceeded £130m was marked by the arrival of Luis Suarez from Liverpool.
The Uruguayan himself has also just emerged from an appeal brought to CAS with that decision falling in Barcelona's favour, allowing the striker to train with his club after initially being banned from all football activity for four months for biting Giorgio Chiellini at the World Cup.