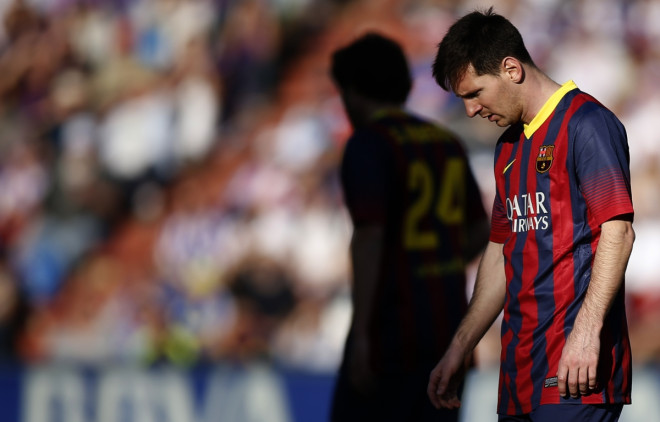 After a very unsatisfactory campaign, Barcelona are already working to rebuild their squad ahead of the 2014/15 season and their new President Josep Maria Bartomeu has tried to diffuse tension around the Nou Camp.
In an interview with a Spanish radio station Cadena Ser, Bartomeu was asked if he thinks that this is the end of their cycle of dominance, and he said: "The truth is that we have a team with great players and, for this reason, we will have to renew it little by little. We have young quality players thoughout.
"We have to make two signings ahead of the next season, a goalkeeper and a central defender," he recognised.
Liverpool and City target Victor Valdes, who has spent more than a decade at Barca, has already announced his desire to quit the club over summer and his replacement is still unknown. But the President wanted to reassure the club's supporters about this issue and said: "We have watched many goalkeepers so the partners must be calmed."
Bartomeu also talked about former Manchester United target Thiago Alcantara, who decided to move to Bayern Munich las summer. He said: "We did not let him go. We tried to convince him but he wanted to play and at Barca it is sometimes difficult."
Regarding his brother Rafinha Alcantara, he said: "When he finishes his loan with Celta, he has a place on our team to compete."
Manchester United and City are reportedly ready to meet Rafinha's £25m release clause, with Arsenal and Liverpool also monitoring the Barcelona prodigy. And after failing to secure the signing of Thiago, United boss David Moyes is desperate to entice his brother.
With recent defeats in La Liga, speculation is rife about the possible departure of Barca boss Tata Martino at the end of the season. Bartomeu said: "We would like him to continue and his contract [until 2015] says that."
About the possibility of Leo Messi leaving the Nou Camp if a rival club meets his £200m release clause, he said: "I would not say it like that. I would ask: Would Messi want to leave Barca? Messi does not want to leave Barca – that is what I think.
"He was formed in our club and he is having an amazing career.
"I do not think anyone will pay the release clause. If Messi wants to leave one day, we will try to convince him to stay."