Barcelona star Jordi Alba rues lack of playing time in 3-4-3 formation amid Manchester United links
Spaniard tells Luis Enrique that he is capable of playing with three defenders.
Barcelona star Jordi Alba has hinted at his frustration over the lack of playing time under Luis Enrique amid recent reports linking him with Manchester United. The Spaniard said that he has not asked the manager for an explanation but told him that he is more than capable of playing in the new 3-4-3 formation.
Alba has been a key player for Barcelona since he moved to the Nou Camp from Valencia in the summer of 2012, having been a regular in the left-back for Tito Vilanova, Gerardo Martino and Luis Enrique himself.
The Spanish international also started the current campaign as the first-choice left-back even though the club made a big investment to bolster the position with Lucas Digne during the summer transfer window.
However, the former Valencia full-back has become the main victim of the recent switch to the 3-4-3 formation, having been dropped in key games like the historic 6-1 win over Paris Saint Germain and the La Liga encounters with Atletico Madrid and Valencia.
Manchester Evening News reported earlier this week that United had been alerted about Alba's situation after Luke Shaw had failed to convince Jose Mourinho he deserves a regular place in his plans this season.
The report added that a source close to the Barcelona left-back had been told that the Spaniard is a big admirer of Mourinho and could be tempted to make a move to United in a deal worth around £25m ($31m).
Alba has now failed to diminish those rumours, confirming his frustration over his lack of playing time from the Spanish camp.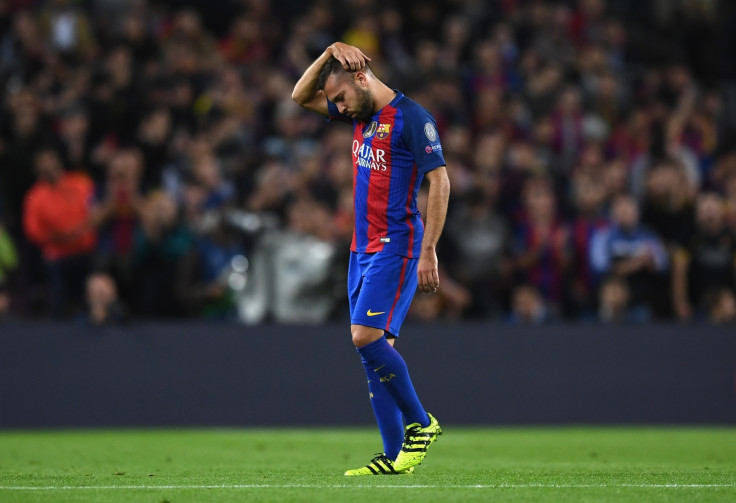 "I have the complete confidence of the [Spanish] boss [Julen Lopetegui] here, which for me is a compliment and fills me with confidence, something I'm not having at Barcelona, which maybe I'd like to have," the Barcelona star said as quoted by AS. "When I was playing, I didn't ask for explanations, and I won't do that now, either. All players want to have continuity, to have minutes. It's true that in recent seasons I've played a greater role, but those are the manager's decisions."
Luis Enrique has opted to use three specialist centre-backs like Gerard Pique, Javier Mascherano and Samuel Umtiti ahead of Alba in his new 3-4-3 formation but the former Valencia star said that he has what it takes to adapt to the system.
"I think I can play with three defenders," he said. "I'm capable of doing that. Obviously my strength is going up and down the wing and that is what has given me the opportunity to play for the national team and at Barcelona. But in the end it's the gaffer who decides so I have to bring out the best in myself to be able to play in any system."
One way or another Alba's exit from Barcelona looks unlikely as Luis Enrique will be leaving the Nou Camp at the end of the season and it's still uncertain whether the next manager will stick to the 3-4-3 formation.
© Copyright IBTimes 2023. All rights reserved.