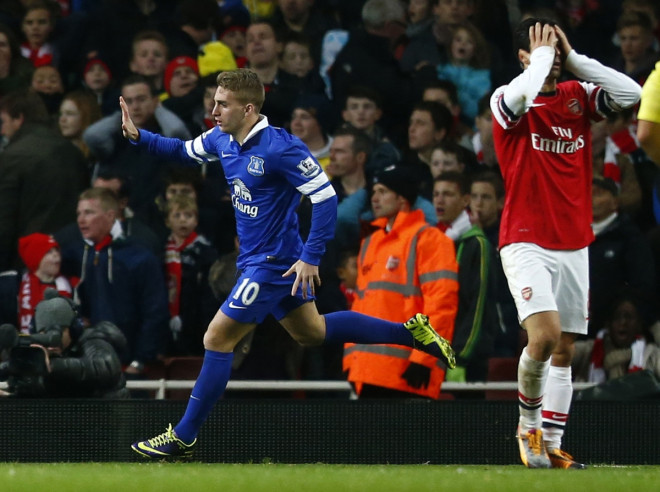 Barcelona loanee Gerard Deulofeu has boosted Everton's chances of keeping him for one more season by claiming that he is "very comfortable" at Goodison Park.
The 19-year-old is considered the best talent to emerge from the Barcelona academy since Lionel Messi but after Neymar's arrival to the Nou Camp last summer the club decided to send him on loan to Everton to continue his development.
The winger has just returned to action after been out for two months with a hamstring injury but before his absence he proved his value to Roberto Martinez with some impressing performances, scoring an amazing goal against Arsenal and leading their side to a 4-0 victory over Stoke with one goal and one assist.
Martinez revealed earlier this season that there is an agreement to extend Deulofeu's spell for a second campaign if Barcelona decide he is not ready to return to La Liga and when asked about such a deal by Everton's official website, the player said: "I just live in the moment."
"At the present time I am an Everton player and I don't think about where I am going to be next season. It will be wherever God wants it to be, but I am very comfortable here and very happy," Deulofeu added.
"I am very pleased with the support that I get over here. The fans have even invented a song for me and the tweets they have sent are very positive and very pleasant to read."
Earlier this season Spanish newspaper Sport claimed Barcelona were very happy with how Everton and Roberto Martinez were taking care of Deulofeu, and are keen to extend his English adventure for another year.
Having being used by Martinez in the club's last two games as a substitute after returning from his injury, Deulofeu is now focusing io the Saturday's Premier League game against West Ham, hoping to secure a place in the starting line-up.
"I want to play this Saturday, I want to be able to contribute to the team, to get the three points and move forward with the club.
"West Ham is a team who have won their last four games and we have had a kind of a dip, so we need to beat them in order to continue to chase the European position that we want. We lost three points against Chelsea We are training hard to return to winning ways."